Do you want to know How To Show Battery Life Percentage on status bar on Realme Q2 Pro. This feature can be used for knowing how many percentage battery is left right on the status bar.
Phone: Realme Q2 Pro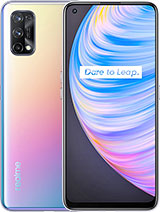 How To Enable Battery Life Percentage on Realme Q2 Pro
To enable Battery Life Percentage display, do the following steps on your Realme Q2 Pro one by one.
Step 1:
On Q2 Pro, Open the Settings page by going to notification panel and clicking on the settings gear like icon on the top.
Step 2:
Now scroll down and go to the Notifications & Status bar option on the Settings page.
Step 3:
Now Find the "Show Battery Percentage on Status bar" option and tap on it as shown in the screenshot shown below.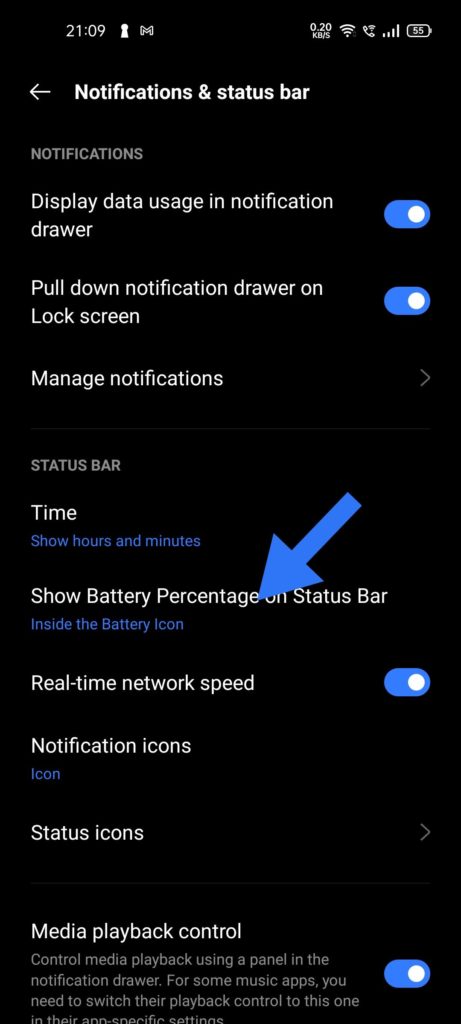 Step 4:
In the pop-up window, you can choose to Show the battery percentage either inside or outside the battery icon.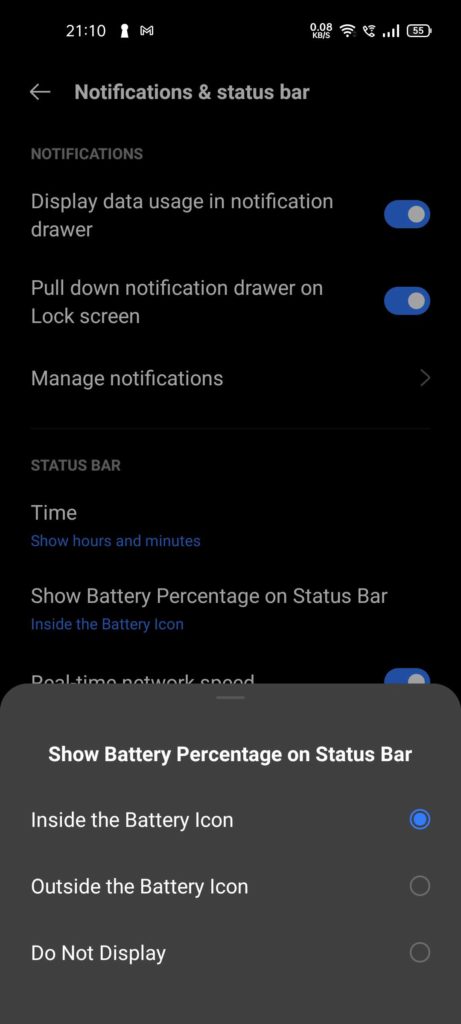 Step 5:
Now the battery percentage remaining will be shown on the top status bar Either Inside or Outside the battery icon as per your choice. That's it you have successfully enabled battery percentage Display option on Realme Q2 Pro.
How To Disable Battery Life Percentage on Realme Q2 Pro
To disable Battery Life Percentage on realme Q2 Pro , follow the above Steps but choose the disable "Show Battery Life Percentage" Option by choosing Do Not Display option. This will disable Battery Life Percentage inside battery icon on Q2 Pro device.
Do share our tutorial with friends. If you have any issues with battery percentage feature on your Realme Q2 Pro device, comment below.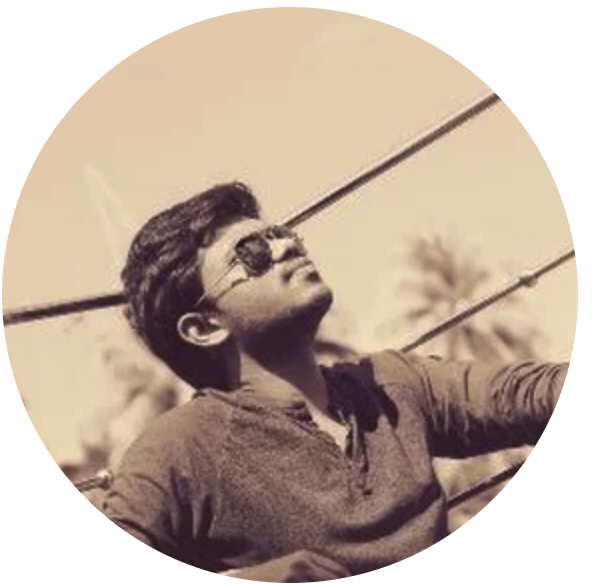 Gowtham V is a tech blogger and founder of HowToDoNinja.com who is an expert in Technology & Software and writes awesome How-To Tutorials to help people online. He has 5 years of experience in creating websites and writing content. He uses a Windows PC, a Macbook Pro, and an Android phone. Check out more about our website and our writers on our About US page. Also
follow me on Twitter page and Linkedin