Is your Samsung Galaxy A30s phone running slow or did you forget your password? We can do a factory Data Reset or Hard Reset on your Samsung Galaxy A30s to bypass the lock screen and make your phone fast.
Sometimes soft reset or hard reset of your Samsung Galaxy A30s phone can also fix many smartphone problems like lagging software.
Force Restart, Hard Reset or Force Data Reset all refer to the same hard reset procedure on your Samsung Galaxy A30s smartphone.
Note that all your data will be erased if you do a Hard Reset / Factory Reset or Data Reset on Galaxy A30s. Do it at your own risk.  Backup your phone data if you can access your phone via google account or using phone backup software on your computer.
Your Samsung Galaxy A30s smartphone runs on Android 9.0 (Pie), upgradable to Android 10, One UI 2.0 OS. You can follow the hard reset procedure related to the android version you are running on your phone.
To do a Hard Reset or factory reset on your Galaxy A30s we can follow few methods. One is by using hardware buttons and another by using software.
How To Hard Reset Galaxy A30s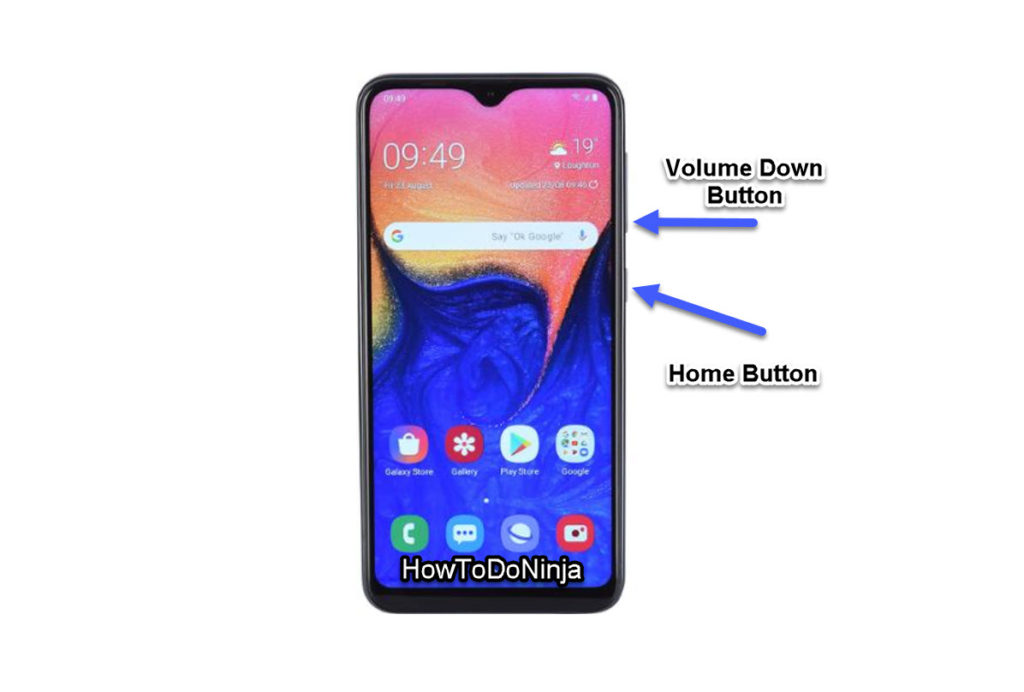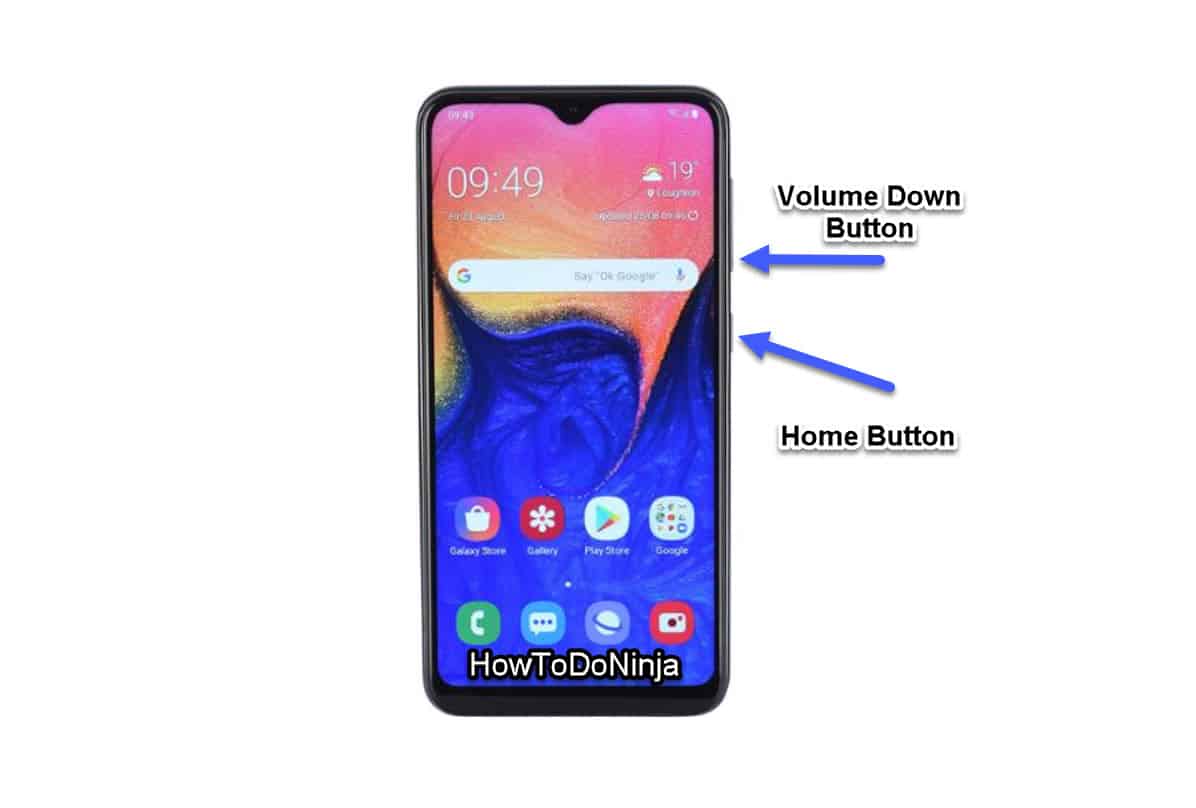 First you have to switch off your Galaxy A30s and Charge your phone to at least 50% before doing the hard reset.
Once your Galaxy A30s is switched off, press the power button and Volume Down button at the same time and hold them until the phone starts as shown in screenshot above.
Release them when you see the Samsung boot screen logo, you will now be taken to the Samsung Android Recovery mode.
Once you are in Android recovery mode, Use the Volume Up and Down buttons to move up and down the list and select the Wipe Data/Factory reset option and press the Power button to confirm.
After that there will be a confirmation to Wipe all user data. Select the "Factory Data Reset" Option and press the power button again to confirm.
Your Galaxy A30s phone will restart and all the data will be wiped and the Factory Reset will be completed after 10 to 20 minutes depending on your phone speed.
Factory Reset Galaxy A30s using OneUI 2.0
Turn on your Galaxy A30s phone and

go to the Settings app.
Then click on General Management option and choose the Backup and reset option. ( Or you can choose Settings > About Phone  and Under Looking for Something Else Choose the Reset option )
Then click on the Reset option and then on the next window, Click on Factory Data Reset.
And that confirm the reset by clicking on the Reset button as shown in images below.
Your phone will reboot and all your data will be erased. Now your Galaxy A30s phone will be fully reset and all settings will be restored to defaults including network settings.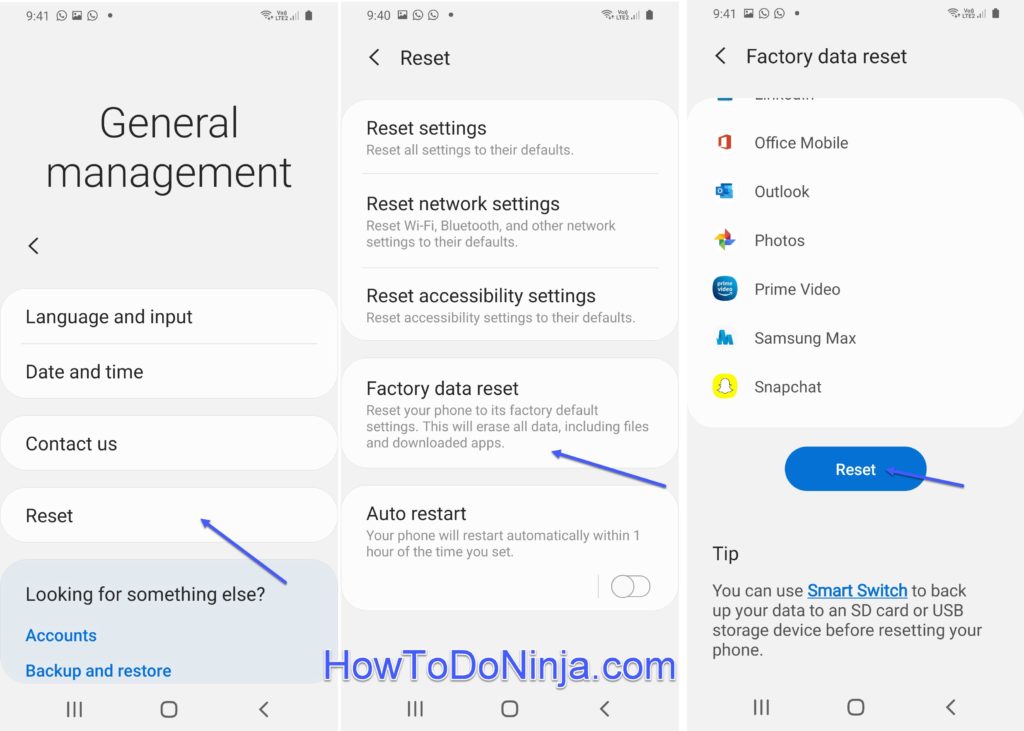 Galaxy A30s Frequently Asked Questions:
How to hard reset Galaxy A30s to factory settings?
Press the hard reset buttons which are the Volume down key + Power button on your Galaxy A30s and release when you see the Samsung logo.
Can you reset Samsung Galaxy A30s without password?
Yes, you can reset an Galaxy A30s without a password by using the hardware reset option.
How do I reset my Galaxy A30s without a password?
Press the volume down and power button to enter factory reset mode to rest your device without a password. Note that all your data on your Galaxy A30s will be erased.
When to do a Hard Reset on Galaxy A30s?
When your Galaxy A30s does not boot or is stuck and cannot be used, a hard reset or factory reset can be done to fix the issues.
How do I boot my Galaxy A30s into recovery mode?
To enter recovery mode on Galaxy A30s, press the volume down  + Power Button at same time and release them all when you see Samsung logo.
Also don't forget to share this article on social media, if you found this tutorial helpful.
Also, let us know in the comments section below if you face any issues with your Galaxy A30s.
Also Read our other tutorials for Galaxy A30s in our website.