Connecting your Samsung Galaxy A70 mobile to WiFi network for internet access is necessary to get a good internet connection when your phone is in a hotel or at home were WiFi networks are faster than mobile networks.
Let's learn how to enable WiFi and connect to internet on Samsung Galaxy A70 device with our step-by-step tutorial.
Phone name: Galaxy A70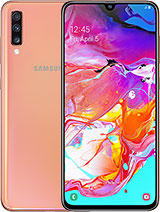 How To Enable and Connect To WiFi On Samsung Galaxy A70
When you are ready, open the Quick Toggle settings on your Samsung Galaxy A70
Now Click on the Wifi Toggle to turn it ON or Go to the Settings app on your Samsung Galaxy A70 and search for the Network option and tap on it.
Now click on the Wifi toggle to turn it on.
Now Select the WiFi you wanted to connect to and enter the password.
Now internet will be connected on your mobile through WiFi.
To change networks simple do the above steps again and choose a different WiFi network.
That's it you have done it.
I hope you were able to Turn on WiFi and Connect to WiFi internet on your Samsung Galaxy A70 smartphone using our tutorial.
Do share the tutorial with your friends on social media if you found it helpful.
Also, let us know your valuable comments below if you are facing any issue.