Are you experiencing poor and blurry Amazon prime video quality when streaming Videos on your mobile phone, computer, or 4k Android Smart TV? If so, you are not alone. Many Amazon's Video streaming website users have reported similar issues with the streaming quality of the videos on their devices.
I have also encountered this issue with bad quality of Amazon Prime Video streams on many occasions. For me, the video quality would sometimes drop to 480p or lower, even when I have selected the highest video quality setting in the Amazon Prime Video app or website.
In this article we will learn why this happens and how to fix it.
Why to change Amazon Prime Video quality?
Millions of people rely on Amazon Prime Video for their entertainment needs, and it's common to want to adjust the video quality to optimize the viewing experience or to conserve internet data usage on mobile devices.
By adjusting the video quality settings in the Amazon Prime Video app or website, you can choose the optimal video quality for your device and internet connection, ensuring that you are getting the best possible streaming experience.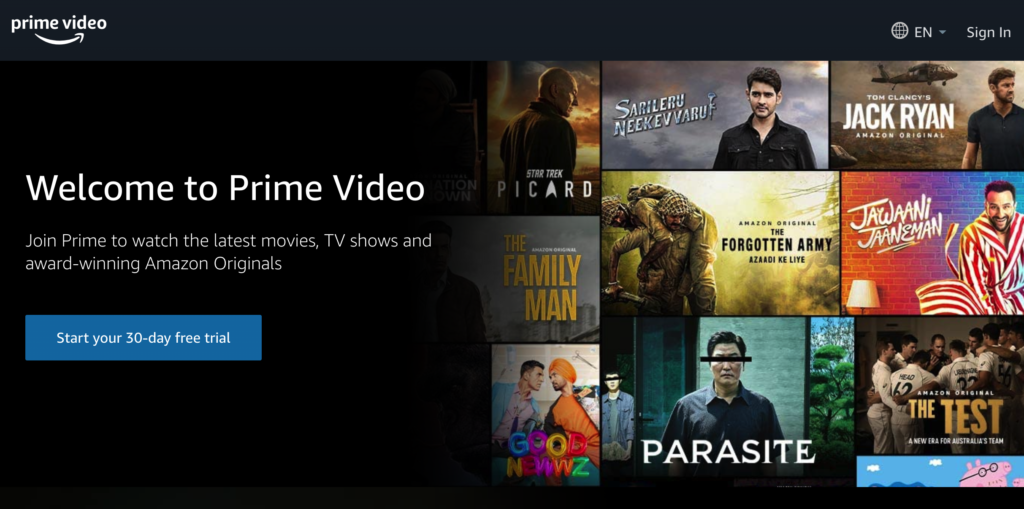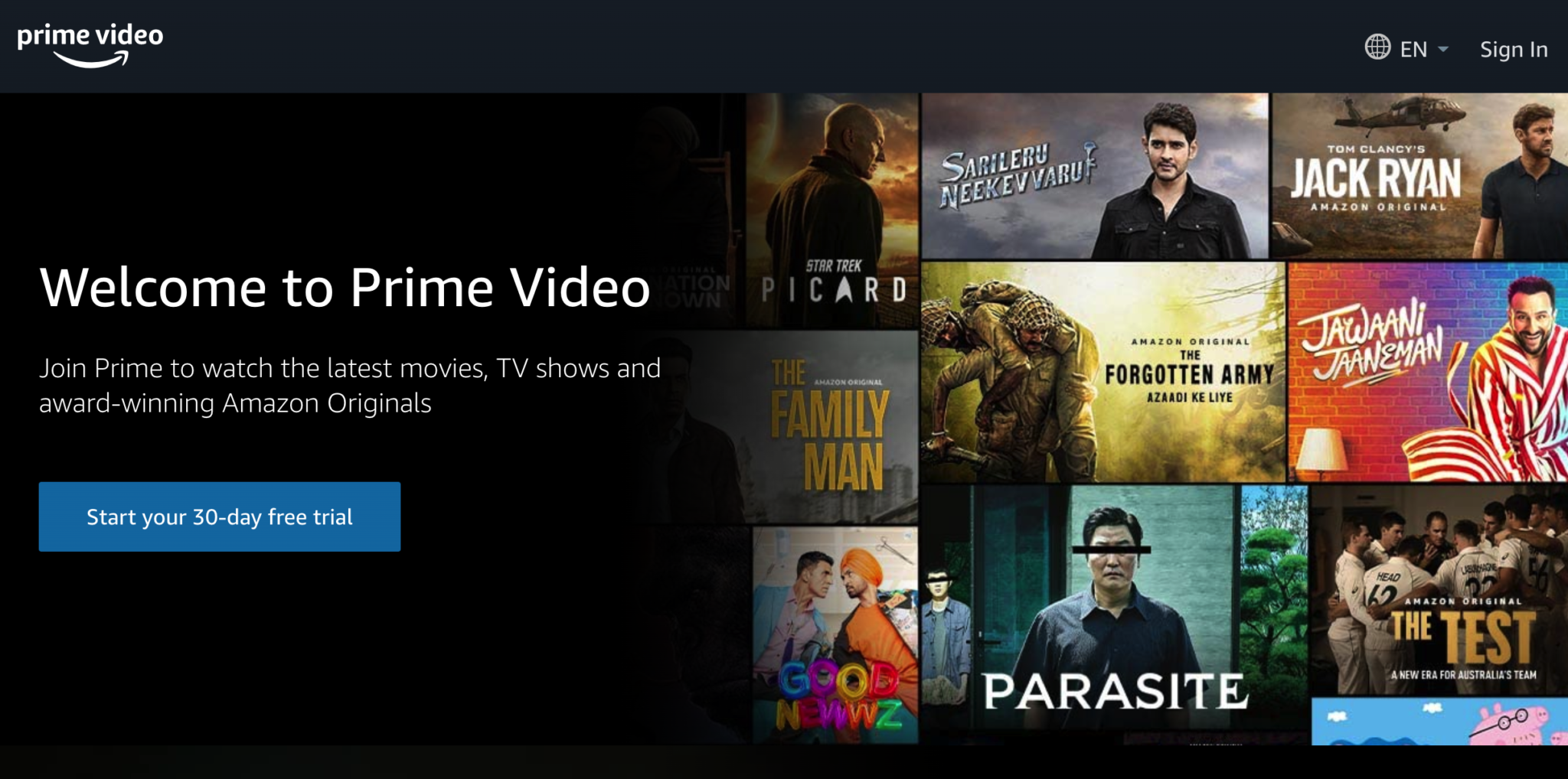 You might also like to read our other article about How to Change Amazon Prime Video Language if you wanted to watch video in your own native language.
Now let's see how you can change the video stream quality on Desktop, Smart TV, Android, and iOS apps for Amazon Prime Video.
How To Change Amazon Prime Video Quality in Desktop
1. Log in to amazon's Primevideo.com on your browser on your Windows or mac computer.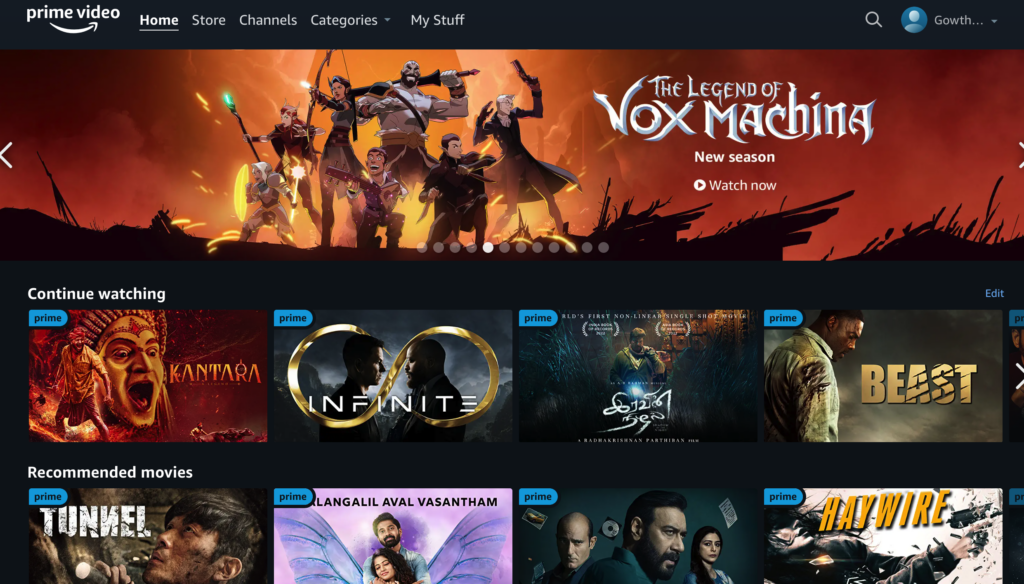 2. Choose the video that you wanted to watch.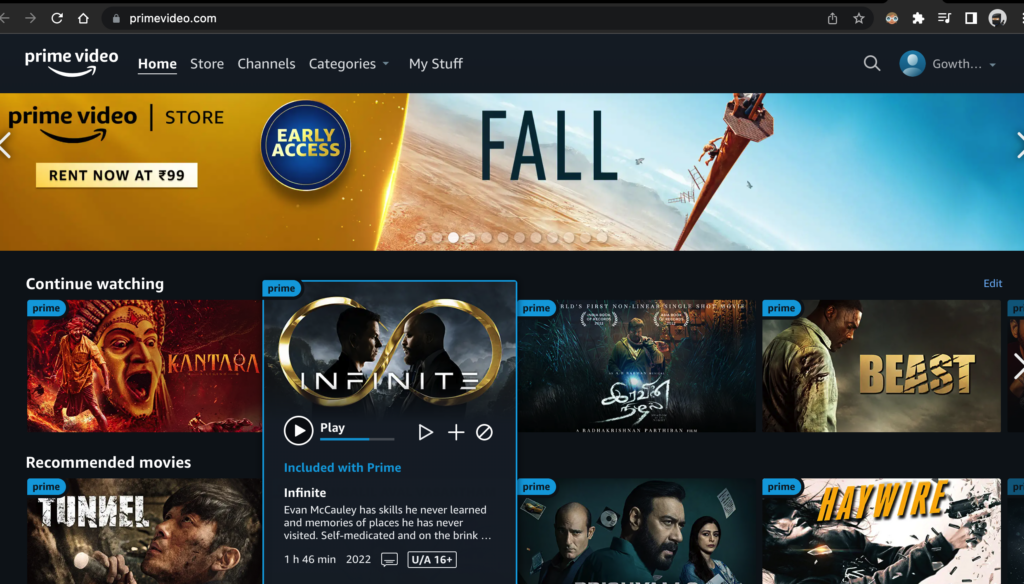 3. Now click on the Settings gear icon during video playback you will see the Video Quality settings dropdown. Now there will be three options for prime video quality that you can choose when playing a video on primevideo.com. These are
Good – Uses About 0.38GB per hour
Better – Uses About 1.40GB per hour
Best – Uses About 6.84GB per hour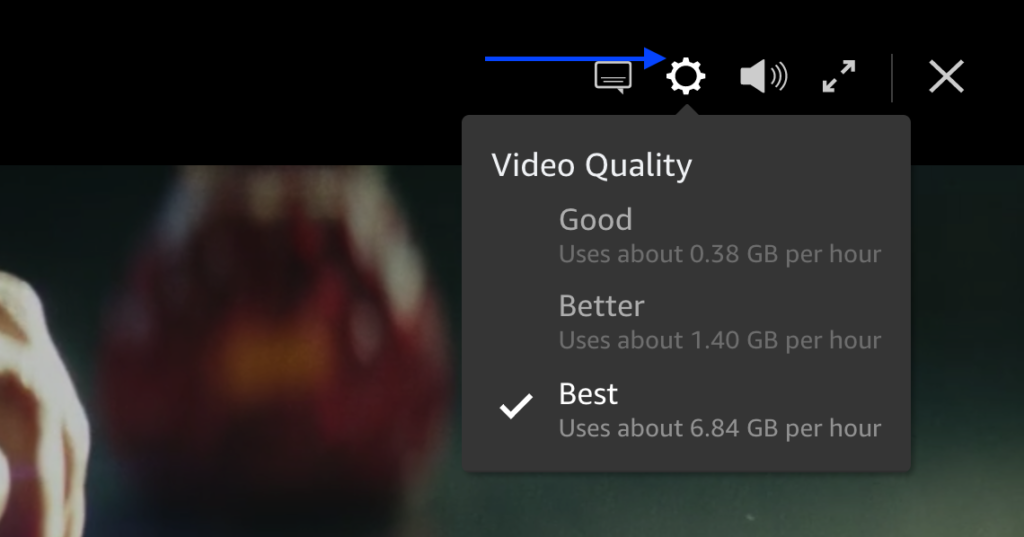 4. Choose the best quality settings. You can also access these Video stream quality settings by clicking on Profile name and choosing the Account & Settings option. Then choose video quality settings.
5. So if you have enough data, you can choose the Best quality settings to play the video at the highest video quality possible or choose Better or Good option.
Also read: How to Delete Amazon Prime Video Watch History
Change Video Quality in Prime Video Mobile App in Android & iOS
To change the video quality in amazon prime video app on your iPhone or android phone follow the below steps.
Step 1: Open the Prime Video app on your mobile on your iPhone or Android device.
Step 2: If you get this below message after you login then your video quality is limited when using cellular network data. Now your prime videos will play in SD quality only when you are using your mobile network. So switch to Wi-Fi to play them in the highest quality.
Step 3: Sometimes you will get this message "To reduce strain on Mobile Networks during these exceptional circumstances, we are temporarily restricting streaming to only SD on Cellular networks until April 14. We remain committed to entertain you. Please stay safe."
Step 4: In order to change that, connect to Wi-Fi internet at your home to play in Full HD quality.
Step 5: Next choose the "My Stuff" option at the bottom and choose the gear settings icon on the top right.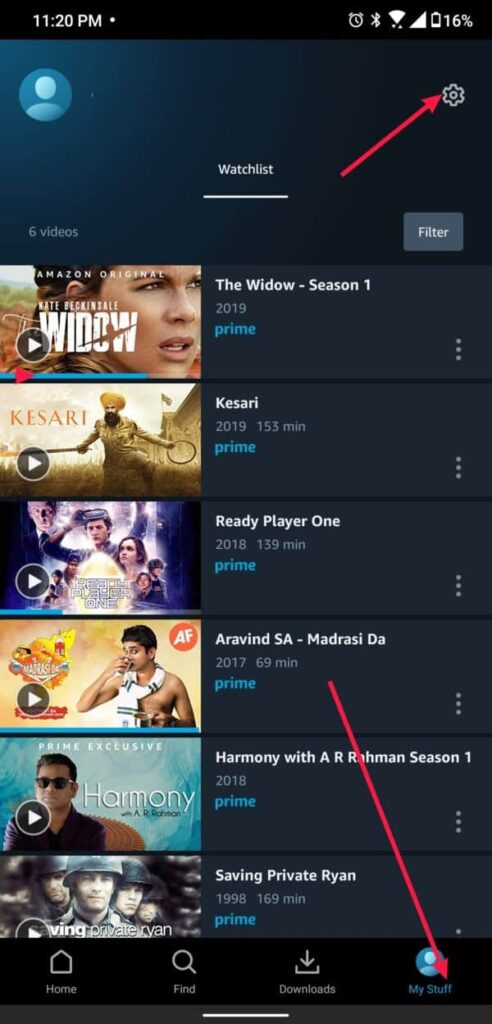 Step 6: Click on the Stream and Download Option as shown in the screenshot.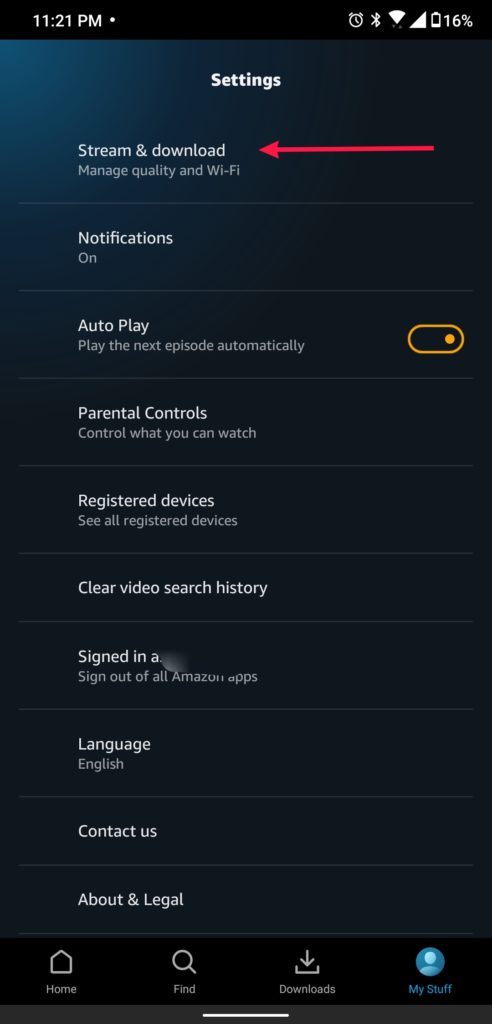 Step 7: Then choose the Streaming quality settings. Now there will be 4 Streaming quality options such as Best, Better, Good and Data Saver.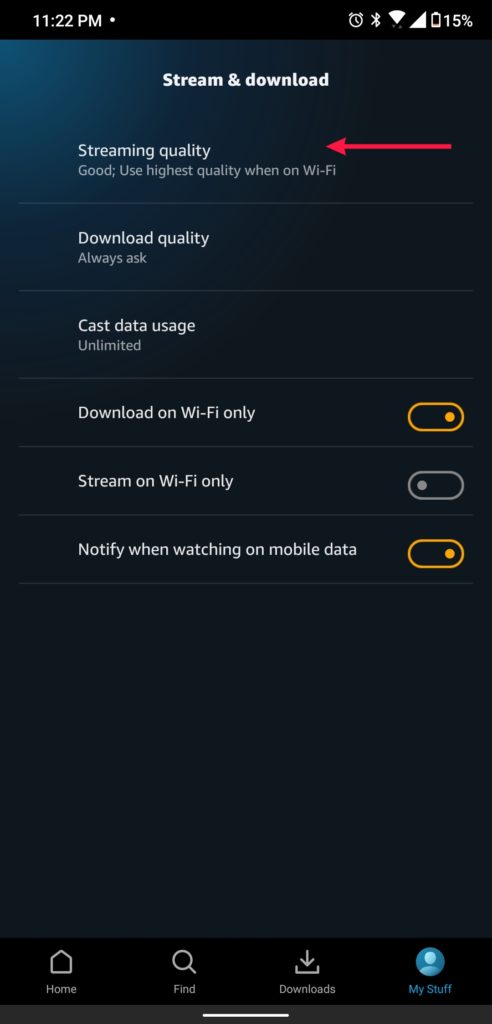 Step 8: Choose the option you like. Choose best quality if you want to stream prime videos at the highest quality possible on your mobile device.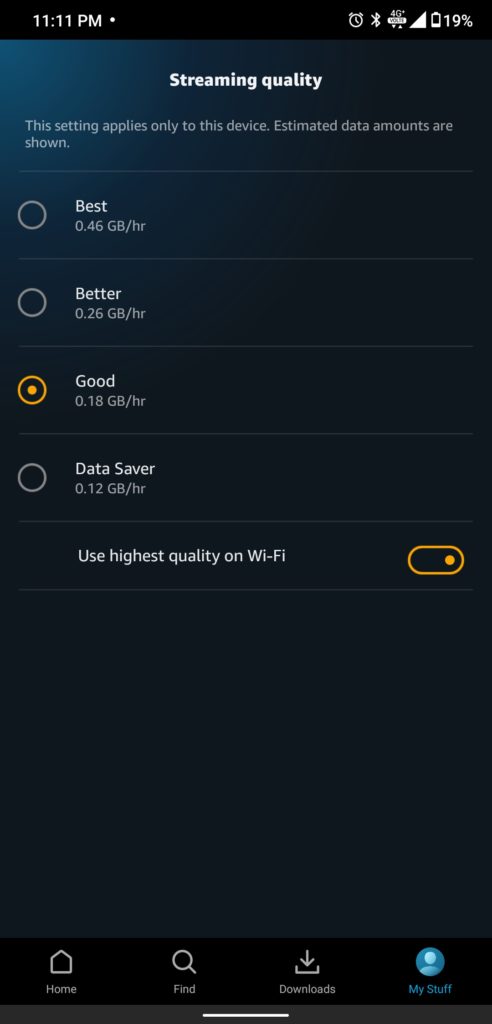 Step 9: The changes will be applied now. That's it you have changed the video quality of amazon prime video app.
I have also written an article about How to Cancel Audible Membership which you might find helpful if you wanted to cancel audible subscription on amazon.
How to Adjust Video Quality in Amazon Prime on Firestick
With the latest firmware update to Amazon's Firestick it's possible to adjust video quality on your TV. To adjust the video quality settings for Amazon Prime Video on a Firestick, follow these steps:
Open the Amazon Prime Video app on your Firestick.
Select the menu icon (three horizontal lines) in the top left corner of the screen.
Select "Settings" from the menu.
Under "Streaming Options," select "Video Quality."
Select the desired video quality setting.
Fix Bad Video Quality on Amazon Prime Video even at high quality setting
If you're a fan of streaming high-quality video on Amazon Prime, you know how important it is to have good video quality. Unfortunately, many Amazon Video users have experienced issues with streaming video resolution, buffering problems, and other playback issues that can impact the overall viewing experience.
To ensure that you are getting the best possible video quality when streaming Amazon Prime Video, it's important to optimize your streaming settings and troubleshoot any problems that may arise. This can include adjusting the video quality settings, increasing your internet bandwidth, or trying different streaming bitrates to find the optimal balance between video quality and stability.
If your prime video quality is still bad inspite to choosing to stream with highest video quality settings, there are many other major reasons for it.
By troubleshooting the following issues, you can improve the video quality of your Amazon Prime video streams and enjoy a seamless viewing experience
1. Low Quality Internet Connection
Improve your internet connection by changing to a better provider with better internet bandwidth (The higher the better) and uninterrupted connectivity.
2. Bad HDMI cable quality
Change your HDMI cable with branded HDMI cable with link assurance option, which can be checked if you have a graphics software installed to check the HDMI cable quality.
3. You have Chosen low-quality video stream option in Amazon prime video settings.
There are three video quality settings you can choose to play your videos in. Sometimes if it is set to automatic, the video will play in the lowest quality if there are any issues with your internet connection. Or even when your internet connection can play full HD video, it will play low-quality 480p to save bandwidth. So in order to play it, choose the quality to "Best" option manually using the gear icon at the top of the video when you are playing as shown in the image below.
4. Poor Video quality due to Device type used and content being played
There may be potential differences in video quality between different types of content on Amazon Prime Video, such as movies, TV shows, and live events. The video quality may vary depending on the specific content being streamed, as well as the device being used to stream it.
For example, a movie may be available in different video quality options, such as 1080p or 4K, while a TV show may only be available in 720p. Live events, such as sports or concerts, may also have variations in video quality due to the nature of the live broadcast.
It is important to note that the video quality of the content may also depend on the device being used to stream it. For example, A mobile device with a budget low end processor won't be able to handle a 4k Video streaming.
Also read: How to Create, Manage User Profiles in Amazon Prime Video
Change Video Quality On Prime Video TV app without Quality Settings
On many android TVs and smart TVs, there are no Video Quality Settings on the amazon.com prime video app. So we will limit the internet bandwidth for the Smart TV, which will automatically change the video quality.
Login to your router D-Link or TP-Link and go to the traffic control panel.
Check the IP address of your smart tv or android tv by going to profile and network settings and click on the network connection. Take a note of the IP address of your Smart TV.
Enter the IP or Mac address on the traffic control panel and enter the bandwidth limitations based on the quality you want.
I have set up it as 3000kbps that is like 3MBps, so the video quality switched back to HD instead of Full HD 1080p when playing videos.
Now your internet bandwidth to your Smart Android TV will be reduced.
This is how I fixed my issue with my android tv not having an option to control the video quality on the Prime Video TV App.
Amazon Prime Video Frequently Asked Questions:
How to change amazon prime video quality on Samsung Smart TV ?
Open Amazon Prime App on your Samsung tv and go to the settings menu and choose the Streaming option and look for the video quality option and choose the quality you want.
How to change amazon prime video quality on Xbox One ?
1. On your Xbox launch the prime video Xbox App.
2. Select the Settings option from the menu option of the app.
3. Go to the Amazon Video Settings option and Choose the Streaming Quality option and change the quality of the video from Good, Better, Best or Highest Quality option.
Change amazon prime video quality on LG webOS ?
Go to the settings panel on the Prime Video App for webOS and change the video quality settings as shown in the tutorial.
How To Change amazon prime video quality settings on Roku ?
On your Roku device, go to your Roku Home >> Settings and Choose Display Type. Here you can set up video resolution and frame rate from the options like 720p HD to 4k HDR 30Hz.
How To Change amazon prime video quality settings on PS4 ?
On your Play Station 4, open the Prime Video App and choose settings and choose the video quality option.
How To Change Amazon Prime video quality settings on PlayStation (PS5) ?
On your new PS5, open the prime video app and go to the settings page and under videos, you will find the video quality option.
Why is my Amazon Prime video blurry ?
Your Amazon Prime video might be blurry due to choosing low streaming Video quality or using old laptop or streaming device which cannot handle higher streaming quality.
I hope you could fix the video quality issue when watching your amazon prime tv shows or movies.
You might also like to read this article about how to delete amazon account permanently if you have one or more amazon accounts and wanted to close one.
Do share this tutorial with your friends who have the same problem with picture quality on amazon prime. Also, leave your comments below in the comments section.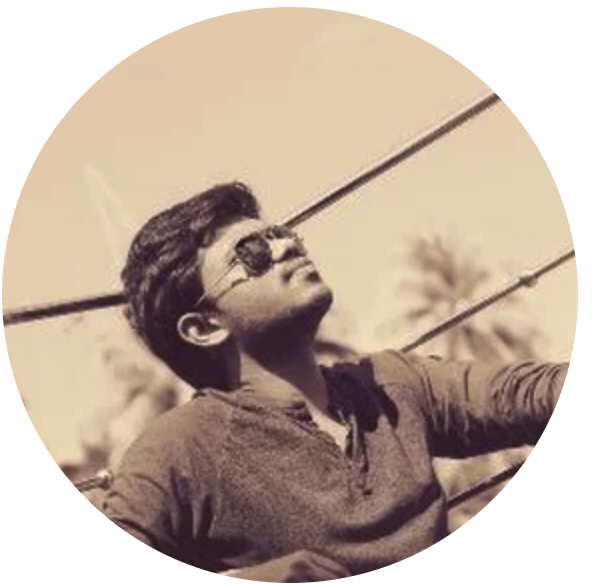 Gowtham V, the founder of howtodoninja.com is an experienced tech writer and a cybersecurity enthusiast with a passion for exploring the latest technological advancements. He has 10 years of experience in writing comprehensive how to guides, tutorials, and reviews on software, hardware, and internet services. With an interest in computer security, he strives to educate users by writing content on how to use technology, and how to also protect their smart devices and personal data from cyber threats. He currently uses a Windows computer, and a Macbook Pro, and tests hundreds of Android phones for writing his reviews and guides.