Last Updated on
Is your prime video quality playing very poorly? Sometimes the video quality will look like 480p or lower even when you have selected the quality to be High in the Quality settings.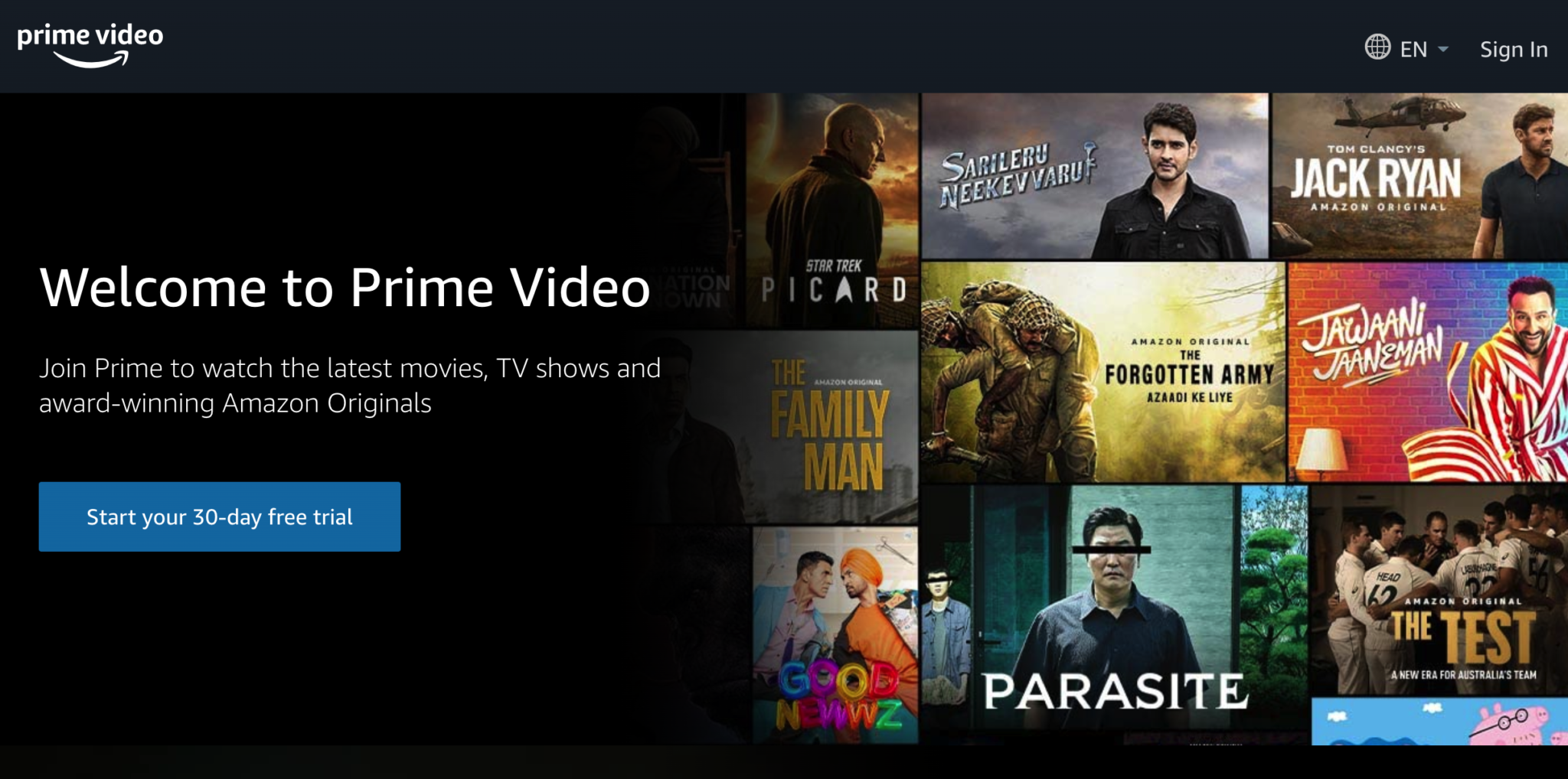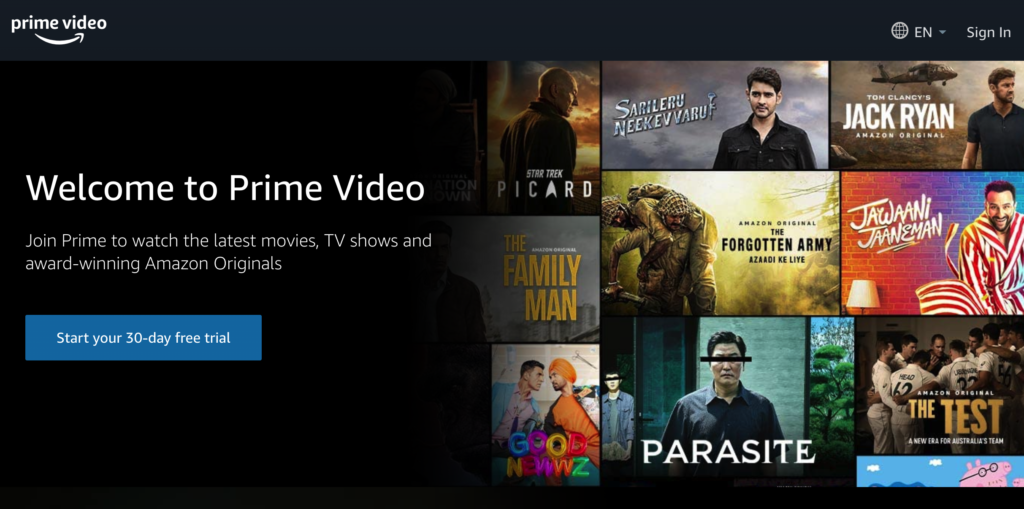 Now let's see how you can change the video quality settings on Desktop, Smart TV , Android and iOS apps for prime video.
Change Video Stream Quality in Prime Video Desktop Browser
1. Login to Primevideo.com on your browser in your desktop.
2. Go to your Profile name and choose Account & Settings option.
3. Now choose the playback option. Now there are three options for video quality that you can choose when playing a video on primevideo.com. These are
Good – Uses About 0.38GB per hour
Better – Uses About 1.40GB per hour
Best – Uses About 6.84GB per hour
4. So if you have enough data you can choose the Best quality settings to play the video at the highest video quality possible.
Also read : How to Delete Amazon Prime Video Watch History
Fix Bad Video Quality on Amazon Prime Video even at high quality Setting
If the video quality is still bad there are three main reasons for it. You can fix a bad quality stream easily by fixing these below issues. They are
1.Low Quality Internet Connection
Improve your internet connection by changing to a better provider with better bandwidth and connectivity.
2.Bad HDMI cable quality
Change your HDMI cable with branded HDMI cable with link assurance option which can be checked if you have a graphics software installed to check the HDMI cable quality.
3. You have Choosen low-quality video stream option in Amazon prime video settings.
There are three video quality settings you can choose to play your videos in. Sometimes if it is set to automatic the video will play in the lowest quality if there are any issues with your internet connection. Or even when your internet connection is capable of playing full HD video it will play low quality 480p to save bandwidth. So in order to play it you have to choose the quality to "Best " manually using the gear icon at the top of the video when you are playing.
Change Video Quality in Prime Video Mobile App in Android & iOS
1. Open the Prime Video app on your mobile on your iPhone or Android device.
2. If you get this below message after you login then your video quality is limited when using cellular network data. Now your prime videos will play in SD quality only when you are using your mobile network. So switch to wifi to play them in the highest quality.
"To reduce strain on Mobile Networks during these exceptional circumstances, we are temporarily restricting streaming to only SD on Cellular networks until April 14. We remain committed to entertain you. Please stay safe."
3. In order to change that connect to wifi at your home to play in FullHD quality.
4. Choose the My stuff option at the bottom and choose the gear settings icon on the top right.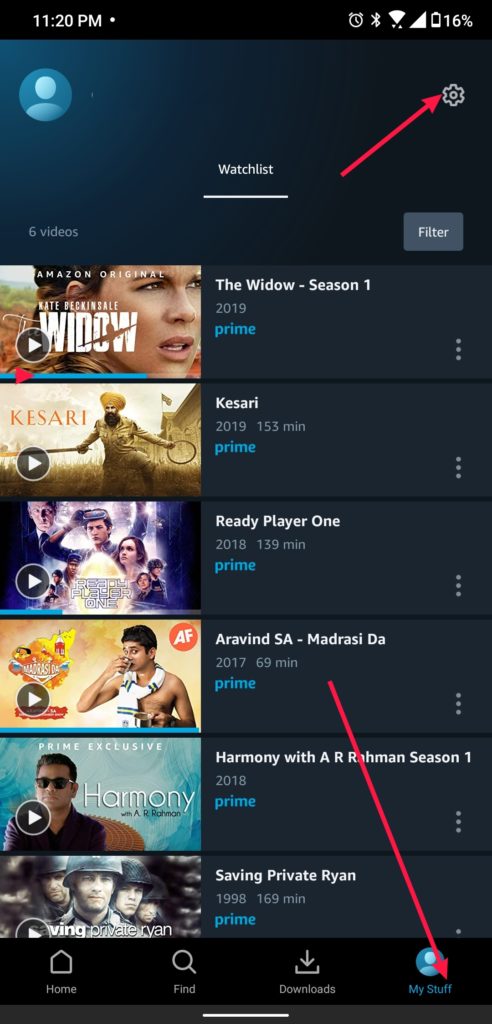 5. Click on the Stream and Download Option.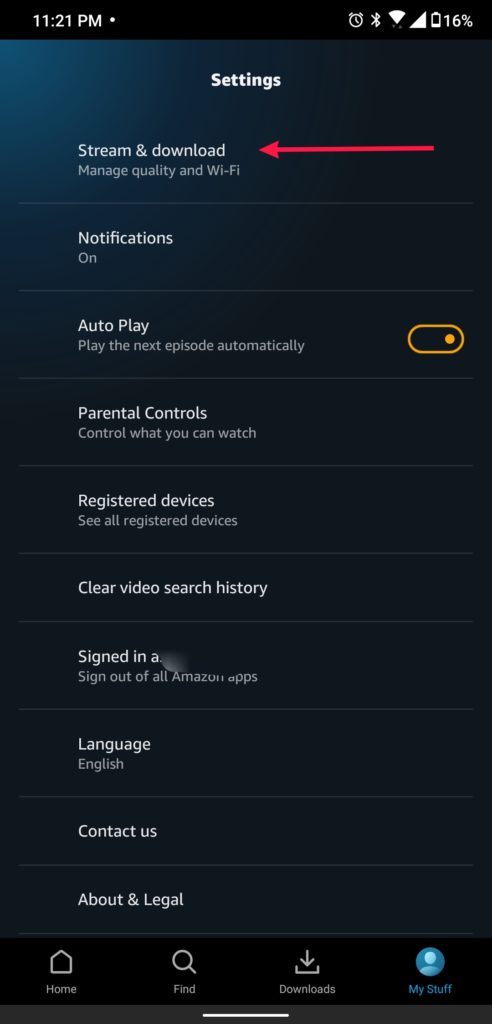 6. Then choose the Streaming quality settings.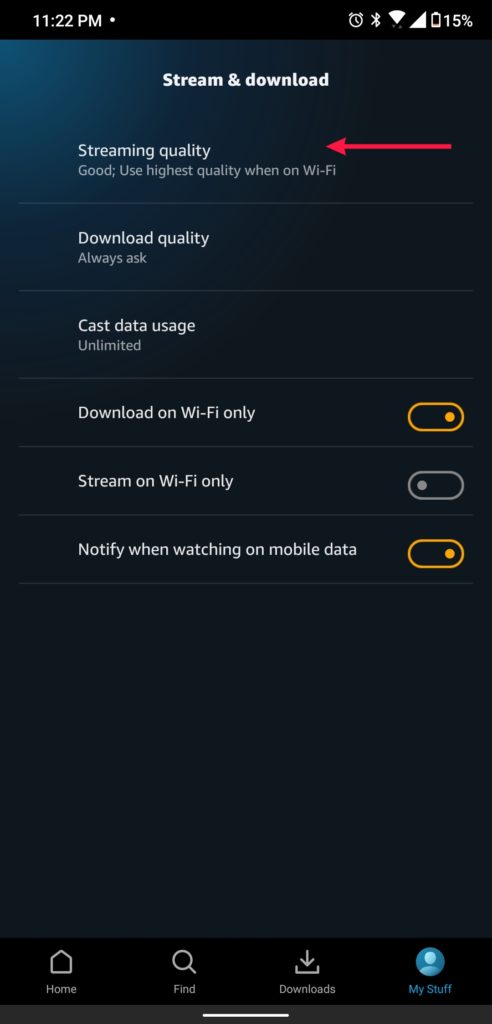 7. Now there will be 4 options such as Best , Better, Good and data saver.
8. Choose the option you like. Choose best quality if you want to stream prime videos in highest quality on your mobile device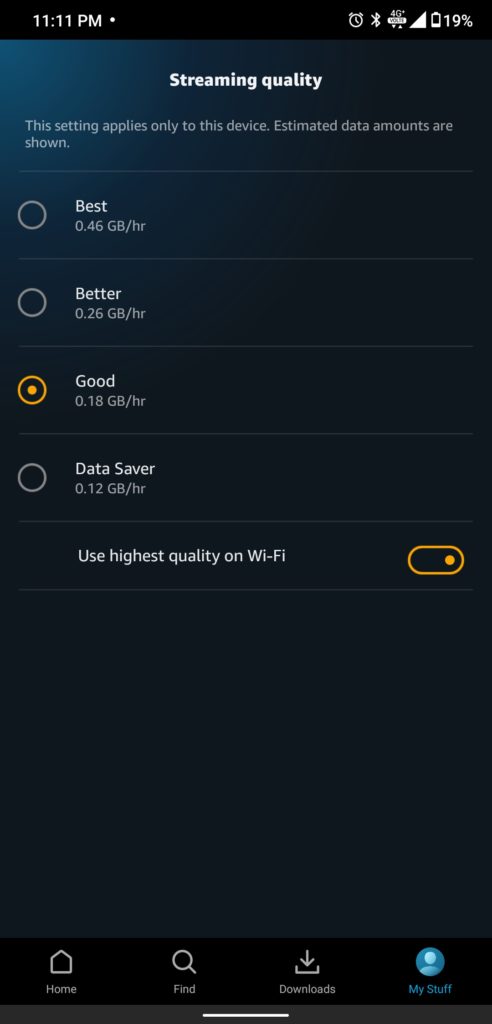 Also read : How To Delete Amazon Account Permanently
Frequently Asked Question:
How to change amazon prime video quality on Samsung tv
Open Amazon Prime App on your Samsung tv and go to the settings menu and choose the Streaming option and look for the video quality option.
How to change amazon prime video quality on xbox one
1. On your Xbox launch the prime video Xbox App.
2. Select the Settings option from the menu option of the app.
3. Go to the Amazon Video Settings option and Choose the Streaming Quality option and change the quality of the video from Good, Better, Best or Highest Quality option.
I hope you were able to fix the video quality issue when watching your amazon prime tv shows or movies. Do share this tutorial with your friends who have the same problem. Also, leave your comments below in the comments section.