In case you come across the CLOCK_WATCHDOG_TIMEOUT Blue Screen Error on Windows 10, the following methods can help you fix the problem. Let's learn what is the CLOCK WATCHDOG TIMEOUT error and how you can fix it.
What is CLOCK WATCHDOG TIMEOUT error ?
This error occurs due to the processor not processing the system interrupts properly due to the processor being stuck and not being able to respond to the interrupts. This CLOCK_WATCHDOG_TIMEOUT error will display the STOP : 0x00000101.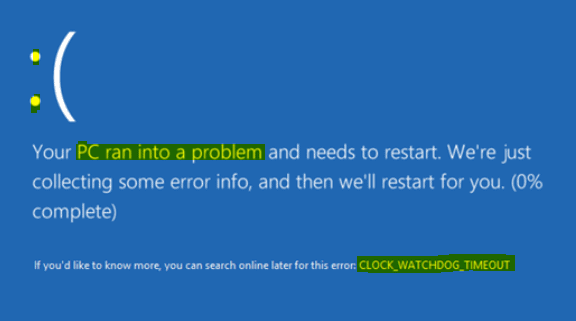 Before doing this create a system restore point. Note that System Restore must be done in safe mode with networking ideally. 
Methods to Fix BSOD CLOCK_WATCHDOG_TIMEOUT error
Method 1: Rollback any Driver Updates
You can easily get your system free of this error if you rollback to the last point where your PC was running fine, without any CLOCK_WATCHDOG_TIMEOUT Blue Screen Error on Windows 10. Many a times driver updates are the reason behind this blue screen error, and if you installed multiple drivers, it can be tough to diagnose which one is the culprit. It's much faster and easier to roll back to the last normal working state. 
Method 2: Windows Memory Diagnostic Tools
Run the Windows memory diagnostic tools.
Press Windows + R key together to launch the run command.
Then type in the mdsched.exe  command in the run dialog box and press Enter.
You will get two options, one would be to restart now to check the problems and the other would try to fix the next time you restart.
Choose the option you like and the system will restart and run the memory diagnosis.
If there is any memory based issue, it will get resolved now. If there is no such problem, you must try the next method then.
Method 3: Remove New Hardware
A newly installed hardware can sometimes keep the processor so busy with it's faulty or outdated drivers that BSOD would be the result.
So, remove such hardware devices one by one and check if the system is now working without the Blue Screen problems.
Method 4: Use Clean Boot State to Troubleshoot
Clean boot would start your system with the least possible number of drivers and programs. So performing a clean boot could help as you'll do one enable/disable at a time.
You must restart your computer after each action. This way if the problem appears or goes away after some action, you know what was causing it.
Method 5: BIOS Update
BIOS is something that controls the functioning of your computer hardware too. So go for this method only if you've got some good knowledge about handling computer systems and BIOS updates. Updating the BIOS might fix the clock watchdog timeout blue screen error.
Do the following steps to update your BIOS.
Step 1: Type msinfo32 in the Run dialog box and hit Enter.
Step 2: System information will open, you must search for BIOS Version in the search field over there and hit Enter.
Step 3:  BIOS version and developer would be shown.
Step 4: Go to the official website of this BIOS manufacturer and download the latest version of the BIOS.
Step 5: Install the BIOS update, keep your system on Power while you do so.
Step 6: Reboot your windows computer.
I hope you were able to fix the CLOCK_WATCHDOG_TIMEOUT Blue Screen Error on your Windows 10 computer.
Do let us know in the comments section below if you are still facing this error.