Many Cyberpunk 2077 players are facing this PS5 error code CE-34878-0. When they are playing, the game suddenly crashes and they get the error code CE-34878-0 on their PS5 or PS4.
"Error has occurred in the Following application CE-34878-0" message will be shown like in the below screenshot.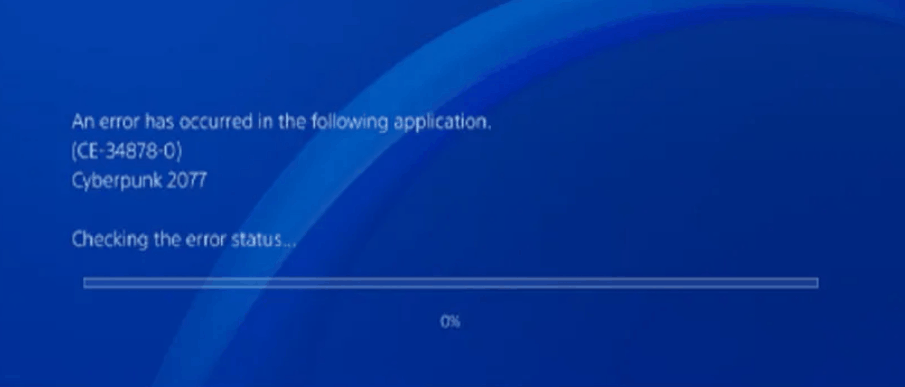 This happens because of various reasons, one of the major problems might be save file issue, which Cyberpunk is already having issues with. Let's learn how to fix this Cyberpunk 2077 error code CE-34878-0 on your PS5.
How to Fix Cyberpunk 2077 Error Code CE-34878-0 on PS5
1. Restart your PS5
To do a complete restart of your PS5
Turn off your PS5 fully.
Unplug the power cable and leave it for a minute and then click on the power button on your PS5 when the cable is unplugged. This will drain any power stored in the capacitor.
Now plugin the PS5 to the power again and restart your PS5.
Now try launching the Cyberpunk 2077 game again.
2. Update Cyberpunk 2077 PS5 Game on the PlayStation Store.
Cyberpunk 2077 is having some issues related to save game file which is causing some bugs and leads to the Cyberpunk 2077 crashing while playing and saving the game or even when loading a saved game. This also leads to unrecoverable save file loss.
3. Reset your PS5 Console to Fix CE-34878-0 Error
Now if above methods din't work to fix the cyberpunk 2077 issue, then you have to try resetting your PS5 console to factory settings and reinstall all the games again.
Do this method only if you are ok with the PS5 games getting deleted from the console and are ok with reinstalling them again.
If all the above methods didn't work to fix the CE-34878-0 error message, then you have to wait for the Cyberpunk 2077 game patch.
I hope you were able to fix the Cyberpunk CE-34878-0 Error code on your PS5. Another error that occurs is the PS5 Error Code, which can be fixed with the same steps.
Also, let us know your comments below if you are facing any other Sony PlayStation 5 or Cyberpunk 2077 issues. We will try to help you out.