What is Radeon Wattman?
Radeon Wattman is a power management utility used for control voltage, GPU clock, memory clock speed and GPU temperature. It comes pre-installed with the Radeon Graphics Software drivers.
Why does "Default Radeon Wattman settings have been restored due to unexpected system failure" Error Occur?
When the radeon wattman fails because of an error , the default radeon wattman settings will be restored. Let's learn how to avoid this error in the future.
This error also occurs due to overclocking your Graphics card beyond its limit. This lead to crashing of the Radeon Wattman application. After this error occurs you might experience AMD display driver failure which might lead to your monitor turning off. You need to restart the computer and the monitor will start working again.
How To Fix Radeon Wattman settings have been restored Error
Inorder to fix this Radeon Wattman Error do the following steps one by one.
1. Reinstall Radeon Wattman ( Radeon Graphics )
If you are facing crashing again and again. Uninstall the Radeon Graphics Software from your computer fully.
Then Download the latest version of AMD Radeon Adrenalin Software from here and install it.
Now when using Wattman you won't face the crashing issue again.
2. Increase Power Supply of your Computer
Sometimes when your PSU doesn't provide the power require for your Graphics card to run it can run into problems and show the message Default Radeon Wattman settings have been restored due to unexpected system failure after a restart of the whole system.
So try increasing your PSU power supply to atleast 450 watts or above for smooth funcation of the GPU.
3. Fix Corrupted Registry Keys
Sometimes if a software was not installed properly the registry keys.
4. Fix Corrupted System Files
If there is system files that are corrupted this error can occur. So you need to use the Windows's built in Windows System File Checker to check for corrupted system files and fix them.To do that do the following steps.
Open the Command Prompt window as administrator.
2. Now type in the below command and hit the enter key.
sfc /scannow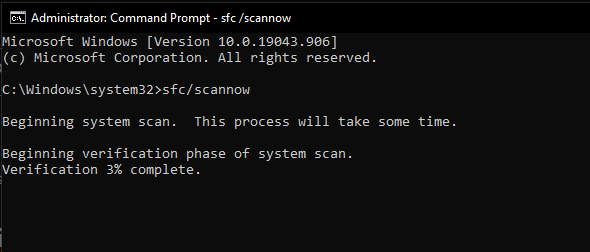 3. Now the system file checking will be done. Once its completed. Restart your computer.
4. Now the Default Radeon Wattman settings have been restored due to unexpected system failure error won't occur again.
5. Check Graphics Card Issue
If the above issues din't fix the issue and your monitor is not working often, then you need to check whether you have a graphics card with issues. Try changing the graphics card or use the internal graphics if you are using an intel processor and check whether the display issue is occurring.
6. Check for Graphics card Driver conflict when you using Dual Graphics
If you are using an Intel processor with an inbuilt Intel Graphics, there might be conflict sometimes. So try uninstalling the Intel HD graphics or Intel Graphics Drivers.
Also, If you are still facing the issue, we will help you out. Let us know your valuable comments below.
Don't forget to share this article with your friends on social media.