You can use the Ultimate Windows Tweaker application for windows 10 to customize your user interface on your computer. Windows Tweaker provides 200 tweaking options that you can use to customize the Windows 10 UI as you wanted.
WINDOWS PRO TIP: If you are facing System related issues on Windows like registry errors or System files being deleted by virus or System crashes like us, we recommend downloading Restoro software which scans your Windows PC for any issues and fixes them within a few minutes.
What is Ultimate Windows Tweaker 4.0
Ultimate Windows Tweaker 4.0 (UWT4) is just about 750 kB in size, this is the smallest Windows Tweaker with the maximum functionality that a single user interface can offer. It has a minimal UI, with tabs and links on top and left respectively for easy and fast access.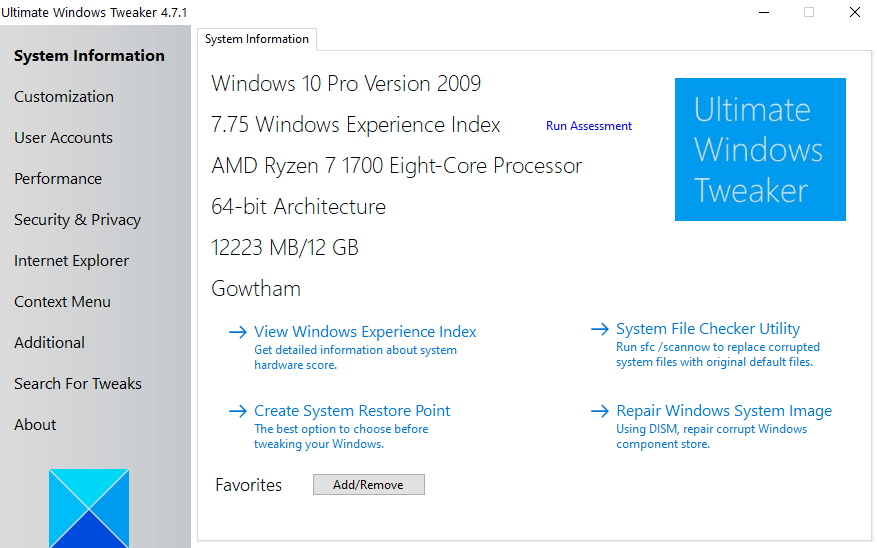 How to download Ultimate Windows Tweaker 4.0
To download the Ultimate Windows Tweaker 4.0 on your Windows computer, go to this URL and click on the download button.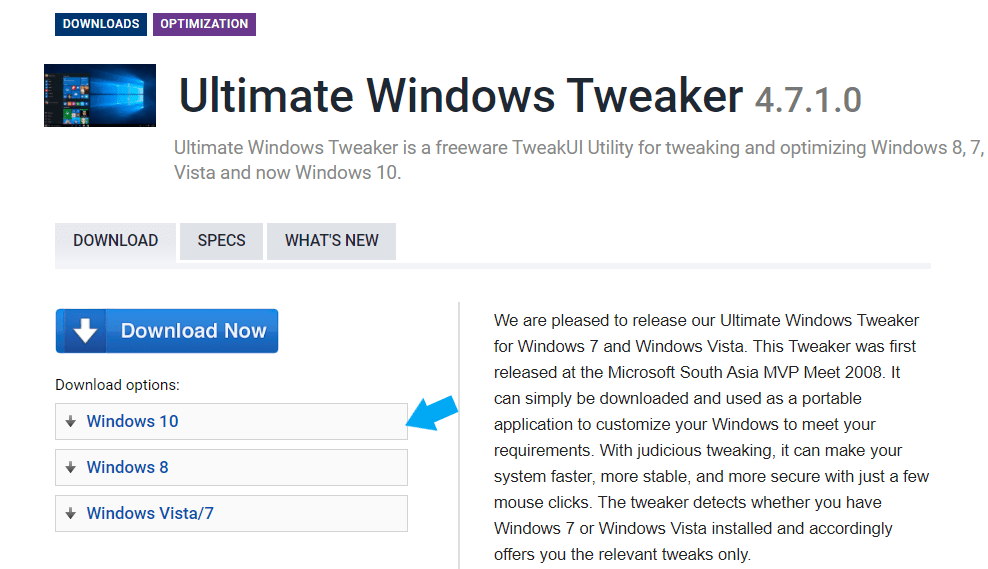 UWT4.zip folder will be downloaded. Now unzip the folder by extracting it. Now open the folder and run the Ultimate Windows Tweaker 4.7.1.exe file to run the program.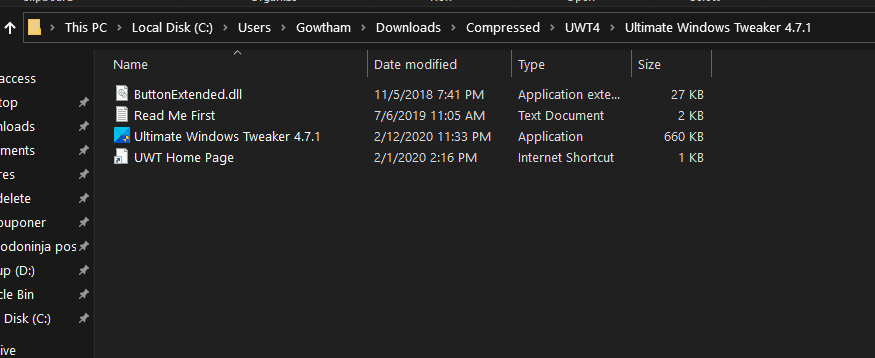 Highlights of the Ultimate Windows Tweaker
New tweaks in the Privacy section to make your computer more secure and reliable. 
New tweaks in the Context menu. This helps store apps support Windows 10.
"Remove Shortcut Arrows From Icons" now does not need the empty.ico file to function properly.
Just click on the Run assessment from the main page to calculate and recalculate the WEI.
Run DISM more easily to fix corrupted system image.
Customize Windows 10 as you like with new tweaks.
New tweaks to pin drives to Desktop Context Menu.
Command link buttons in a newly designed interface.
You can hover over any tweak to get a description at the bottom of the Windows Tweaker.
Many other tweaks too, just explore!
Features of Windows Tweaker 4.0 for Windows 10
Let us here classify these tweaks more neatly for better understanding.
System Information: Just open UWT4 to access basic system information that includes:
OS Version
Build
System Type
Processor
RAM Installed
Name of the Computer
User Name
WEI Score and a few more parameters.
You get direct buttons to 
Recovery Options
Run DSIM
SFC
System Restore Point
Customization: Here you can change settings for the taskbar, thumbnails, modern UI, File Explorer, etc. Choose to able or disable start animations, change themes for OS or apps, change volume controls, date and time controls, show or hide frequent or recent folders, and things like this.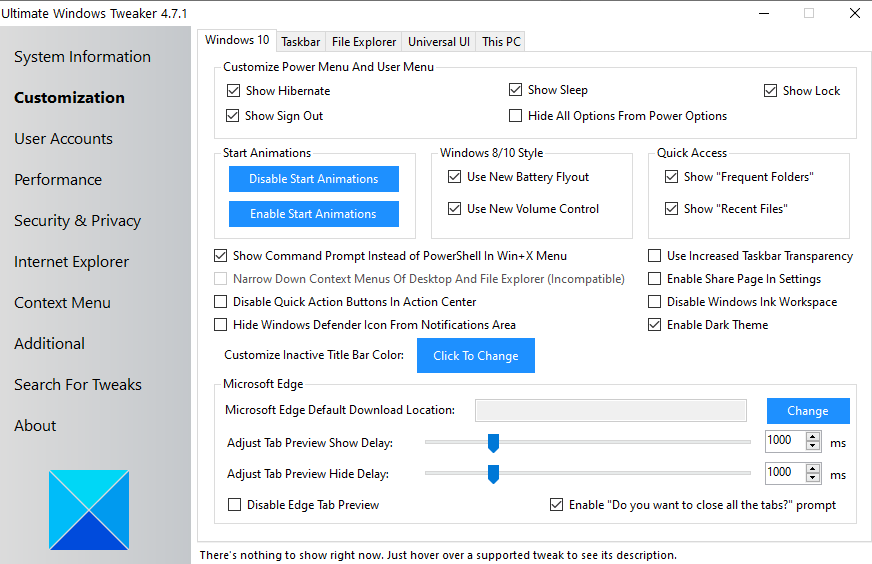 User Accounts: Under this category you get access to the following settings
User account settings
Login Information
Sign in options 
User Account Control Settings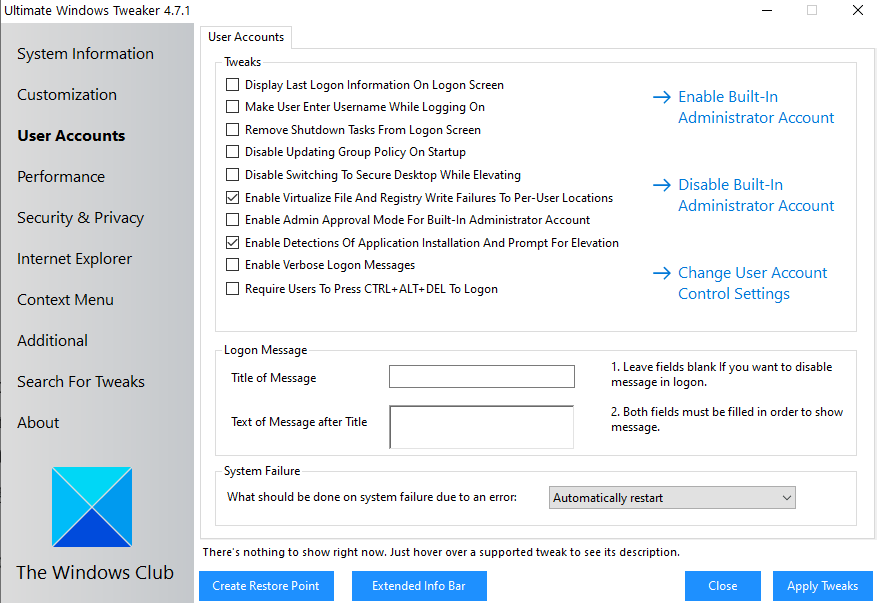 Performance Tweaks: 
This Performance Window will let you optimize Windows 10 to suit your needs. You might leave it to default, or change if you are sure of something you can handle.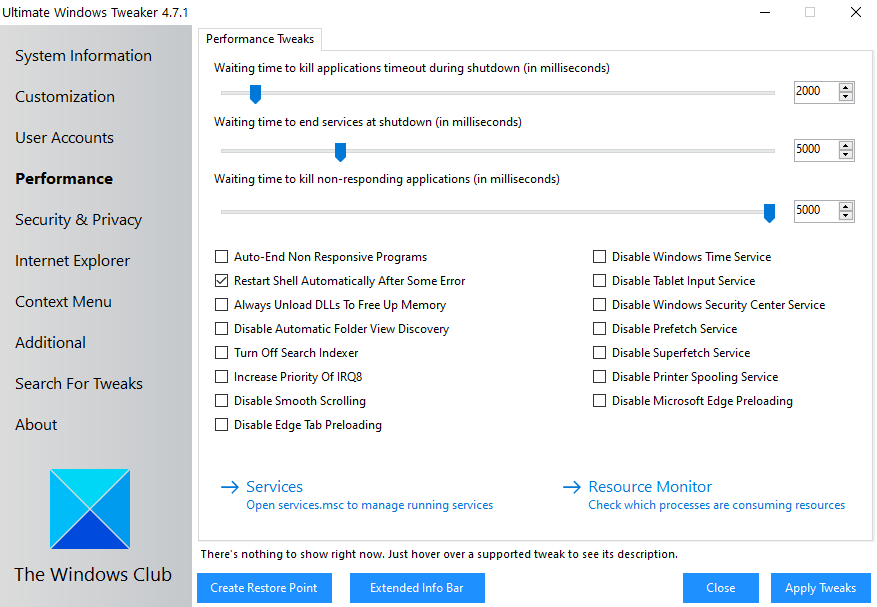 Security Tweaks:
You get access to an all-new Privacy tab to change the Windows 10 Privacy settings. You can carry on operations like disabling Telemetry, Biometrics, Advertising ID, Cortona, Windows Update sharing, Feedback requests, Password Reveal button, Steps Recorder, Inventory Collector, disable Wi-Fi Sense and Application Telemetry, Bing Search, etc.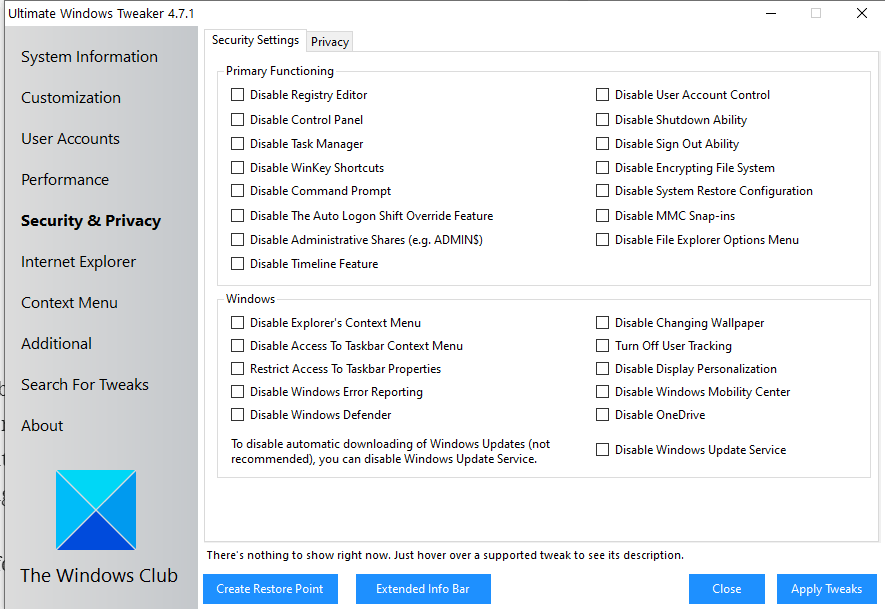 Internet Explorer: 
The Internet Explorer 11 options can be changed in appearance and behavior under this section.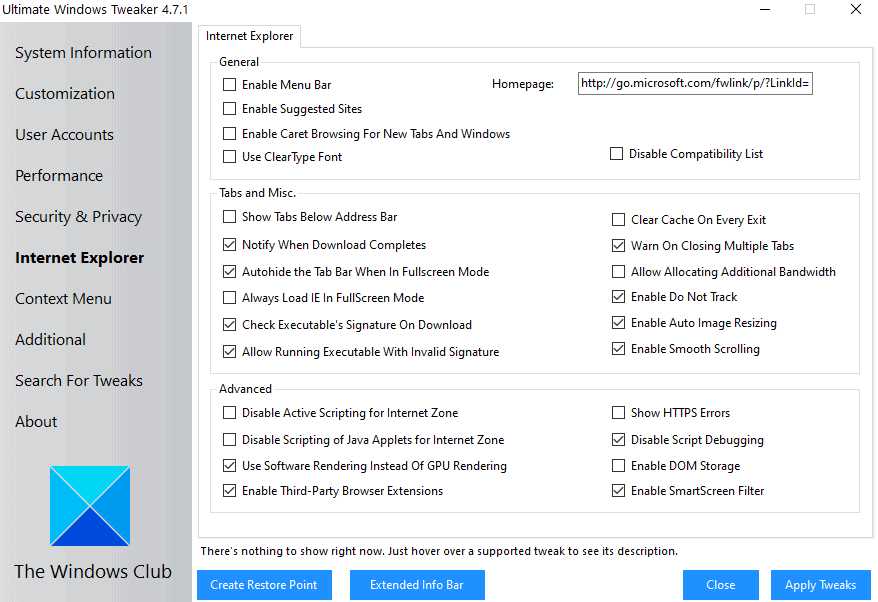 Context Menu Tweaks: 
You can now add store apps from Windows and other useful functions to the right-click context menu. Add Scan with Windows Defender, Clear Clipboard, all built-in default Windows Store apps, etc. easily to the context menu.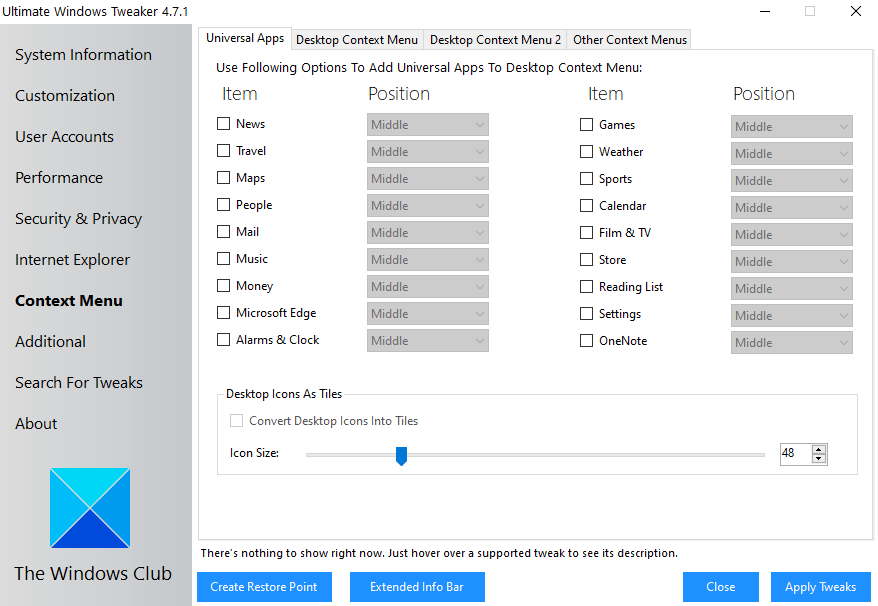 Additional System Tweaks:
You can even change the behavior of the UWT 4.0 itself under this section. By default, explorer.exe is started whenever you wish to apply any tweak. You can change this setting here. Some more Network tweaks are also present here.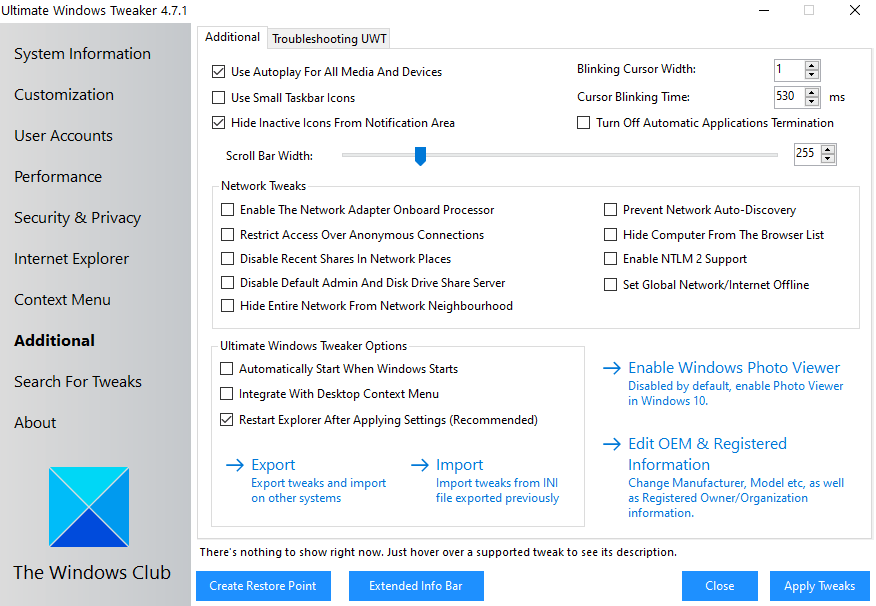 Search Bar: 
Easily search for some tweak here if you cannot find it from the list directly.
About tab: 
Find the License Agreement, submit Bugs via the About page, find the Support link, visit the TWC forum or check for updates. 
Getting and Using the Ultimate Windows Tweaker 4
Step 1: No need to install, just get the zip file and unzip it.
Step 2: Move the program folder to the desired location. Pin the exe file to the system menu. Keep all folders in the Download File in the same main folder, do not keep them at multiple locations separated from each other. 
Step 3: First of all, begin by creating a system restore point. You can do this directly from the Create Restore Point Button in the UWT 4.0. It is recommended that you do not miss this step. 
Step 4: Apply tweaks slowly, and once you are sure of their function and effect, only then move on to the next one. Remember, such programs are meant for advanced users, so try them out only if you are one.
Step 5: Once you check or uncheck a tweak, click on the Apply button. Some might be applied at once, while some other may need a system reboot. Still, some others will just need a browser reboot. So do as required.
Key Features of the UWT 4.0
Super simple interface.
Tool Tips to hint the user on what the Tweak would do.
Allows for System Restore Point at the beginning itself.
Only 750kB, very lightweight!
200+ tweaks.
Portable, so no installation is required.
No adware, no crapware.
Report Bugs on the About page.
TWC Forum for support.
Easy Updates from the About tab.
Import and Export Tweak easily.
Search Feature
Hope we were able to help you in customizing your Windows 10 User experience. Also, don't forget to let us know your valuable comments below.
Wish you easy computing!