Driver Power State Failure might sometimes appear on a Windows 10 system with the blue screen when you resume from sleep, restart, or shutdown.  Let's learn what the error means and how we can fix it.
What is Driver Power State Failure?
This DRIVER_POWER_STATE_FAILURE error occurs due to the driver of hardware devices getting an error during a power level change to the hardware and drivers not being able to work properly after that.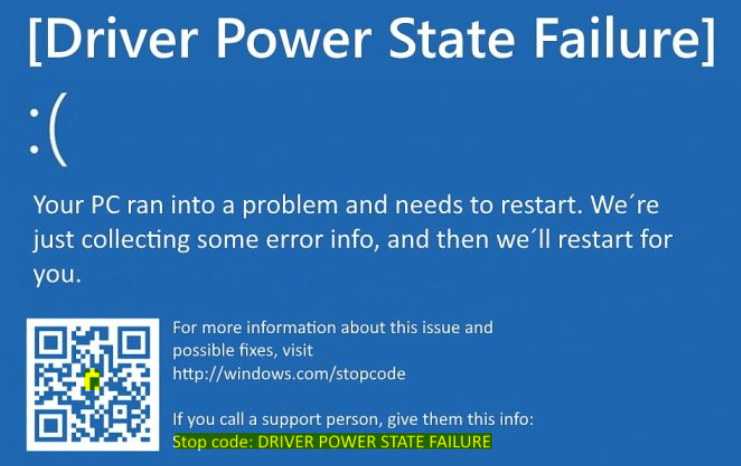 This power state issue occurs both on Windows 10 and Windows 8.1 Operating System.
How to Fix Driver Power State Failure error
Follow the below methods to fix the DRIVER_POWER_STATE_FAILURE error on your Windows 10 computer.
Method 1: Update Device Drivers
Check that all of your drivers for keyboards, mouse, graphics card are compatible with the current version of Windows.
Method 2: Update device drivers in Safe Mode
Start your PC in Safe Mode by rebooting it and check for any pending device driver updates. Even if there is no update, you must do so manually with the help of an OEM website or any other reliable source.
Method 3: Blue Screen Troubleshooter
Run the Blue Screen Troubleshooter from Microsoft. You can find this in the Settings > Blue Screen > Find and fix other problems. You'll need to apply the recommended fix and close the Window. Or run this on the Microsoft website where a wizard will guide you through everything.
Method 4: Fix External hardware
If you know that you recently added some new hardware to your machine, try removing it for once and check if the problem persists. If the issue is resolved, you have a diagnosis and you must update the drivers of the new hardware. Check by disconnecting the external hardware one by one if you installed more than one hardware to find which external hardware is causing the problem.
Method 5: Run Driver Verifier programs
Driver Verifier programs are also available that you can run on your PC to fix the driver issues. These are easy ways to fix device driver problems. The program can easily find out what causes the BSOD. You always have options like rollback, update, repair, disable, etc. once you know what is the cause of the problem.
Method 6: Do A System Restore
Restore your system if nothing seems to work out. Either restore it to factory default or to some rollback point that you had specified earlier. This way you do not lose your data and are able to restore your system.
I hope you were able to fix the Driver Power State Failure error on your Windows computer with the help of our tutorial.
Do let us know in the comments section below if you are still facing the Driver Power State Failure on your Windows 10 or Windows 8.1 computer.