If you came across the error message that one or more audio service isn't running, don't worry! You can resolve this easily by following the simple steps we share below.
You might have encountered this issue when you run the Playing Audio Troubleshooter in Windows 10 from Control Panel or from the Taskbar Search. The Audio Troubleshooter will show the error "One Or More Audio Service Isn't Running Error" after troubleshooting.
It might also come up when your system has some issues playing audio files. You can follow the below-mentioned steps in any order as you like.
How to Resolve One Or More Audio Service Isn't Running Error
Method 1: Update Drivers for Audio Service
Step 1: Go to the Device Manager by opening it using the windows search.
Step 2: Open the Audio Inputs and Outputs Dropdown option.
Step 3: Manually update device drivers by right-clicking on them and choosing the Update Driver option like in the screenshot below.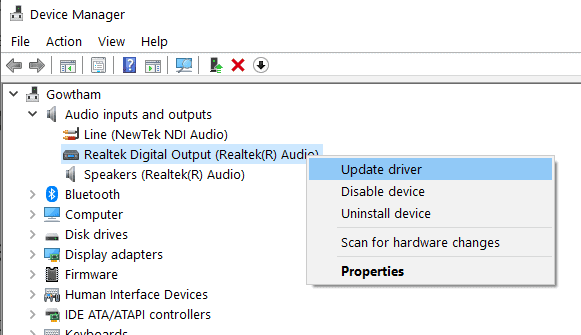 Step 4: Else go to Windows Update on the Settings app or with Windows search option.
Step 5: Then click on the Optional Updates option.
Step 6: Then Update the drivers for the Audio Service.
Method 2: Re-install Drivers for Audio Service
Step 1: Go to Device Manager
Step 2: Scroll down to open Sound, Video and game controllers option.
Step 3: Right-click on each audio device and uninstall current drivers.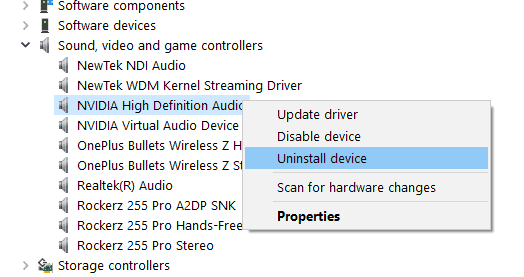 Step 4: Reboot your system and check for Windows update and install the updates which will contain the latest audio drivers.
Method 3: Check Status Verification for Audio Service
Step 1: Open the run dialog box by pressing Windows key + R command.
Step 2: Open services by typing services.msc and press Enter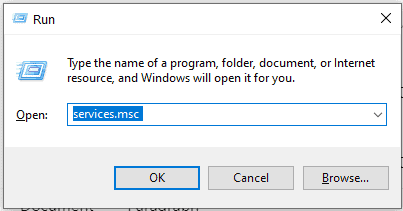 Step 3: Press the W key after clicking on the services list for getting to services starting with W. Now Locate the Windows Audio Service.
Step 4: Right-click on it and press Restart. Now the service will be restarted.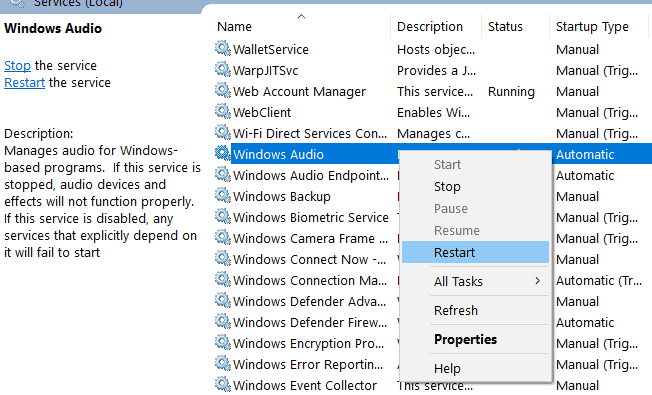 Step 5: Now right-click again and select Properties. Or Edit the properties by double-clicking on the Windows Audio service. Service Status must be running and Startup Type must be Automatic.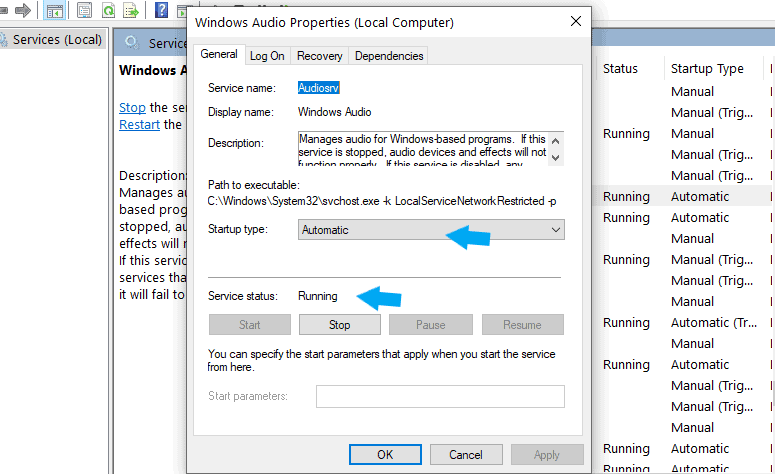 Step 6: If not, then change it like in the screenshot above.
Step 7: Now click Apply button to apply the changes and press OK to save them.
Step 8: Follow the same steps to ensure that all dependency services like the Remote Procedure Call, Windows Audio Endpoint Builder are started and are in automatic startup type.
Step 9: Also ensure that the Multimedia Class Scheduler Service is Started and in Automatic mode, if present on your PC.
Step 10: Now restart your Windows 10 or Windows 8 computer and your audio service error will be resolved.
Do let us know your valuable comments below.
I hope you were able to fix the Fix One Or More Audio Service Isn't Running Error with our tutorial. Do share if you found it helpful.