Notoriously referred to as the Blue Screen of Death Error, the Tcpip.sys Blue Screen Error can be fixed as well in most cases. Read below to learn how to do this in a few simple steps.
Fixing the Tcpip.sys Blue Screen Error on Windows
IRQL_NOT_LESS_EQUAL
KMODE_EXCEPTION_NOT_HANDLED
PAGE_FAULT_IN_NONPAGED_AREA
Above stated 3 are the usually associated error codes you get on the Blue screen. You can try the steps shown here to clear this error.
Method 1: Run the Blue Screen Troubleshooter
Run the Blue Screen Troubleshooter from Microsoft. You can find this in the Settings > Blue Screen > Find and fix other problems. You'll need to apply the recommended fix and close the window. Or run this on the Microsoft website where a wizard will guide you through everything. You must restart the computer once you are through with all the troubleshooting steps.
Method 2: Resetting TCP/IP
Sometimes it so happens that the TCP/IP protocols get modified unintentionally and unknowingly over time while using the system. The Tcpip.sys file that gives this blue screen error is related to these protocols. Thus resetting them helps in some cases, give it a try!
For this open the Command Prompt window by selecting the Run as Administrator option using the right-click or using the windows search box option.
Then type the command netsh int ip reset and hit Enter. You will see the resetting of the network like in the screenshot below
Then Restart your PC.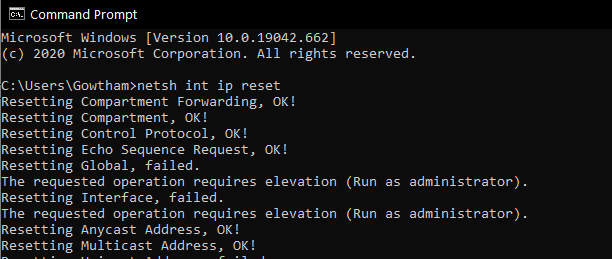 Method 3: Updating the Network Card Drivers
Open the Run command dialog box by pressing Ctrl + R command.
Then type the command devmgmt.msc and hit Enter. This opens the Device Manager.
Then click on Network Adapters option.
Update the driver for each entry individually, one by one by right-clicking and choosing update driver. 
Now restart the computer. 
In case any other driver issue occurred after you did this, roll back to the previous state.
Method 4: De-activating and uninstalling third party anti-viruses
This might feel silly or ridiculous at first, but sometimes disabling third party antiviruses is all that is to be done. If you installed some software of this sort recently, you must try this step as some brands cause this problem very often. To uninstall the antivirus and fix the Tcpip.sys Blue Screen Error follow the below steps
Open the add or remove program by searching on the Windows search bar.
Now search for the antivirus you have installed recently and click on it.
Now click on Uninstall button to remove the installed antivirus program.
Now restart your computer
Now the Tcpip.sys Blue Screen Error will be fixed.
Hope we helped you with our step by step tutorial!
Do let us know in the comments below if you are still facing the issue.