Today i tried to download and play No Man's Sky with the Microsoft Gamepass and got these two errors.If you are facing the same issue then don't worry we have got the solution for you in this article. I am using GTX 1660 Super.
Vulkan Errors
I got these two errors like mentioned below when i tried to run No Man's Sky game.
1. Vulkan Initialization Failure Error – Unable to initialize Vulkan (vkEnumerateInstanceExtensionProperties failed.)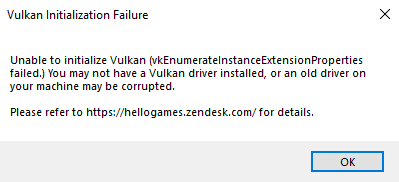 2. Driver Error – Error initializing graphics drivers (vkEnumeratephysicaldevices failed)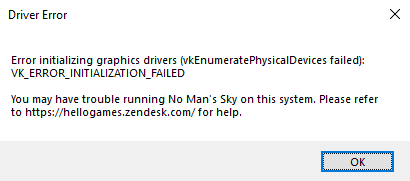 Let's learn how to fix these errors with the tutorial below.
How to Fix Vulkan Initialization Failure VK_ERROR_INITIALIZATION_FAILED Error in No Man's Sky
1. Reinstall Graphics Card Drivers
2. Install Vulkan Supported Drivers
Go to this Vulkan Drivers page to find Vulkan Supported Nvidia Drivers as sometimes for some GPU the Vulkan drivers are not downloaded by default with the Nvidia Geforce Experience Drivers.
Download the driver based on your Windows Version. You can also use the below links.
You can also download the Vulkan Beta Driver if the release version din't support your GPU.
This is a beta version of the Vulkan driver which is only available for windows 10. You can download it with the below link.
https://developer.nvidia.com/vulkan-beta-45836-windows-10-dch
There is also a Linux Vulkan Driver for supported Nvidia Graphics Card which you can download here.
After the driver is download, install the driver on your Windows system and restart your computer.
Now the Vulkan Driver missing error will no longer show up on your Computer when you try to run games which include Vulkan support.
I hope you were able to fix the Vulkan Initialization Failure Error when starting the No Man's Sky game with the help of our tutorial. Do share it with friends who are having the same Vulkan issue. Also, let us know your valuable comments below.