Working in shared networks has become an inevitable form of work in the 21st century. However, many times you might face folder sharing errors in Windows 10 which would hinder your work and waste your time.
You will get the error as "your folder can't be shared windows 10" when you try to share a folder on your network.
Let's learn to fix this error by using the methods mentioned here.
Reason 1: Antivirus
Your antivirus might be the reason that you are not able to share folders on an otherwise shared network. If the folder can be shared by disabling the antivirus, you must then add exceptions to the folder you want to share while having your antivirus on. 
Reason 2: Access Problem
Sometimes you need to give full control to all users over the network to share folders without getting error messages. 
Step 1: Right -click on the folder name you wish to share.
Step 2: Go to Properties
Step 3: Go to Sharing tab
Step 4: Go to Advanced Sharing
Step 5: Check the "Share this folder" option
Step 6: Select Permissions.
Step 7: Select the Allow Box for full control.
Step 8: Now select Everyone. Click OK and Apply. 
Step 9: If your folder is to be password protected, click on Add.
Step 10: Now go to Advanced Option and click on Find now.
Step 11: Select Authenticated users, Click OK. Now click Full Control. Click OK and exit.
Reason 3: Password Protected Sharing
Sometimes disabling a password protection is the only step you need to execute for folder sharing, but it comes with its own risks. You might become more vulnerable to threats this way, but it will solve your problem of folder sharing error. 
Step 1: Go to Control Panel > Network and Internet section.
Step 2: Go to Network and Sharing Center.
Step 3: Click on Advanced sharing options and click on All Networks option.
Step 4: Go to Password Protected Sharing Section.
Step 5: Select Turn OFF Password Protected Sharing
Step 6: Save Changes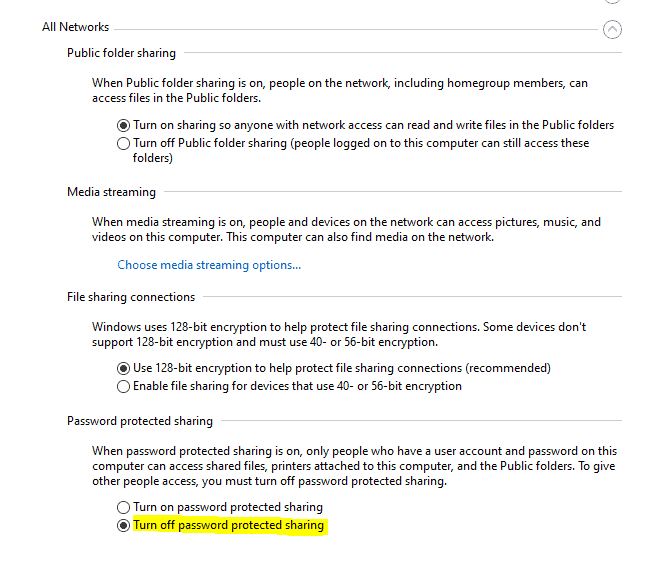 If all this also does not help just go to security properties and set it up again. Furthermore, you can still keep password protection ON by managing it independently for each user under User Settings.