When you are using more than one monitor, by default you will only see one taskbar on the main display only. You cannot access it on all display like in macOS. This can be changed easily in Windows 11 or even windows 10.
Let's learn how to get the Windows taskbar to show on all monitors when you are using Windows 10 or Windows 11.
How To Enable Taskbar To Show Up On Both Monitors In Windows 11
Step 1: On your Windows 11 device, go to the Settings application by searching for settings in the search bar.
Step 2: Now choose the Personalization >> Taskbar setting option. Or right clock on the Taskbar and choose the Taskbar settings option in the popup options.
Step 3: Now Scroll down that settings panel and choose the Taskbar Behaviors option.
Step 4: Now in the Taskbar Behaviors options, Choose and select the Shown my Taskbar on all displays options like in the screenshot blow.
Step 5: Now the Taskbar will be enabled on all your display and will be shown in it's default or chosen position.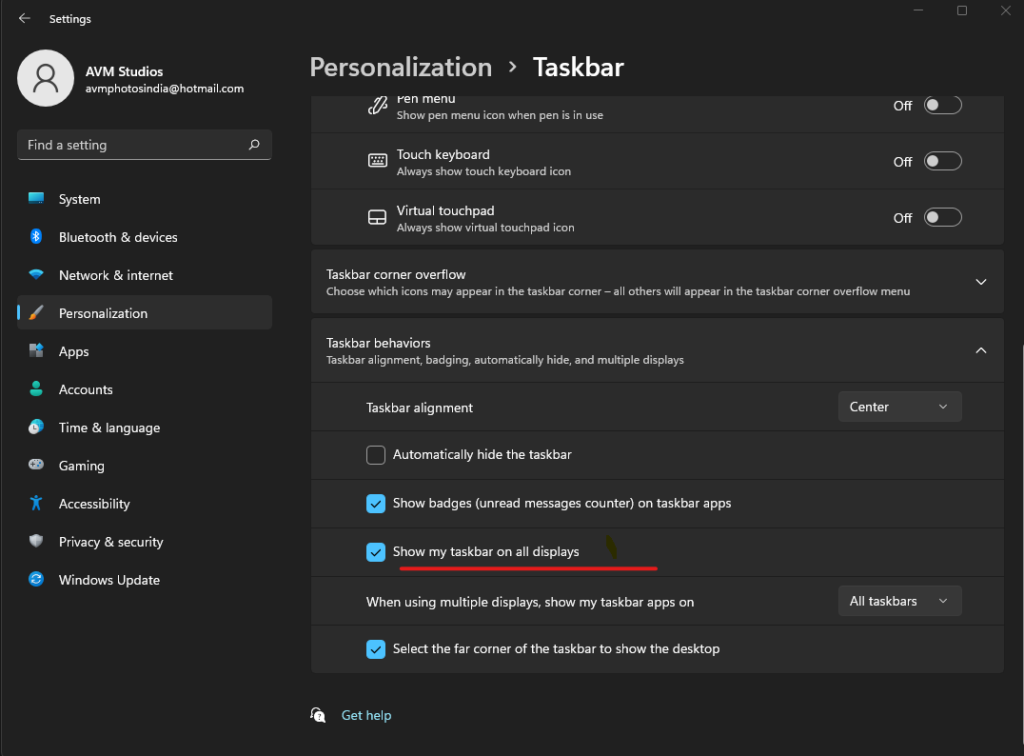 I hope you were able to enable the Windows Taskbar On Both Monitors or on all your monitors In Windows 11 or windows 10 operating system with the help of our tutorial.
Do let us know your comments below if you are facing any issues when enabling the Taskbar on all monitors.