What is CompatTelRunner.exe in Windows 10?
CompatTelRunner.exe is an exe file that comes with the Microsoft Compatibility Telemetry program. This process sends usage data and information to Microsoft servers which are used to improve Windows 10.
This is enabled by default in Windows 10. This might cause high CPU or High Disk Usage due to the program sending diagnostic data in the background.
WINDOWS PRO TIP: If you are facing System related issues on Windows like registry errors or System files being deleted by virus or System crashes like us, we recommend downloading Restoro software which scans your Windows PC for any issues and fixes them within a few minutes.
If you'd like to disable the CompatTelRunner.exe process running in your background application, or stop it for once to make boost your processor's speed, try the below-mentioned methods.
How To Disable CompatTelRunner.exe with Application Experience Tasks in Task Scheduler
Step 1: Open the Run command window using windows search ( Press Win Key + R) and type taskschd.msc and hit Enter.
Step 2: You will see Task Scheduler now open.
Step 3: Select the Task Scheduler Library folder on the left side.
Step 4: Then click on the Microsoft > Windows > Application Experience options like in the screenshot below.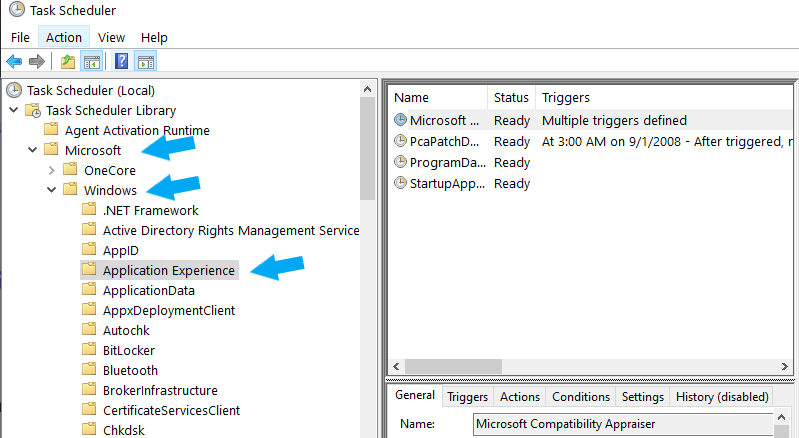 Step 5: Disable the Microsoft Compatibility Appraiser by right clicking on it and selecting the Disable option.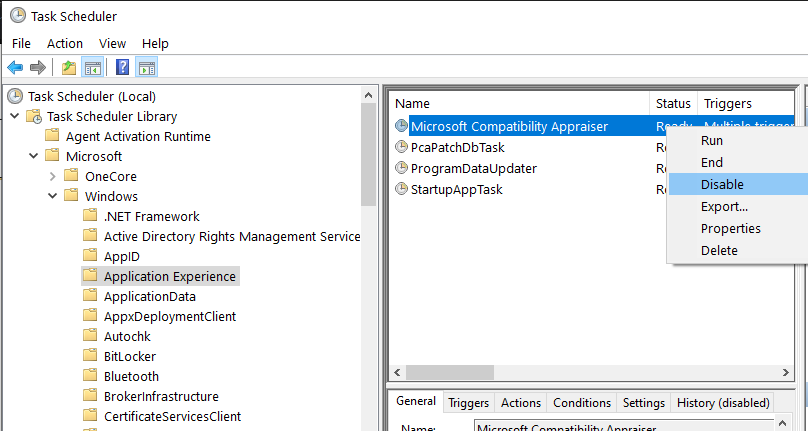 Microsoft Compatibility Appraiser collects program telemetry information if you have opted in during Windows 10 setup and sends it over to the Microsoft Customer Experience Improvement Program.
So, you can change the time when to send this data rather than disabling it completely. For this follow the below steps.
Step 1: Right click and go to properties.
Step 2: Switch to Trigger Section.
Step 3: Double click on some trigger to open it. 
Step 4:  Now change the schedule of the program as you'd like to. 
Disable CompatTelRunner Windows Telemetry via Group Policy Editor
Step 1: Windows Telemetry collects all data in Windows. 
Step 2: Security, Basic, Enhanced, and Full are the four levels.
Step 3: You have to choose the basic level. 
Step 4: Go to Group Policy Editor in Windows.
Step 5: Then choose Computer Configuration > Administrative Templates > Windows Components > Data Collection and Preview Builds
Disable CompatTelRunner using Registry Editor
Step 1: Open the Run command window
Step 2: Then type the regedit command and hit Enter.
The Registry Editor window will open. Now go to the following key location.
Computer\HKEY_LOCAL_MACHINE\SOFTWARE\Policies\Microsoft\Windows\DataCollection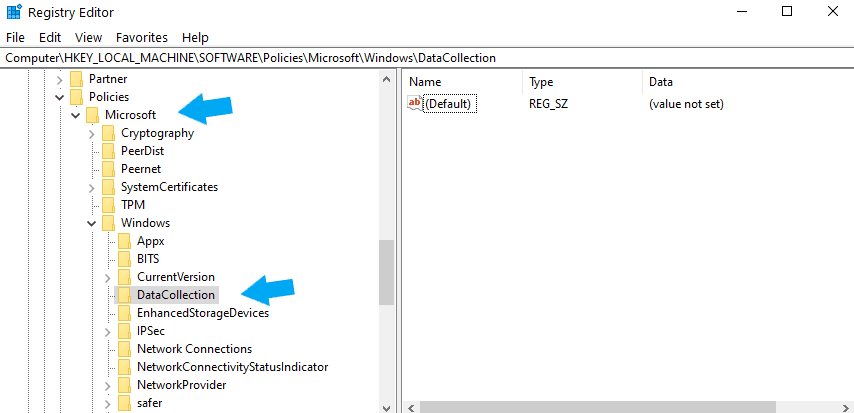 Step 3: Create a new key and Choose DWORD (32-bit) Value by right-clicking on the panel window.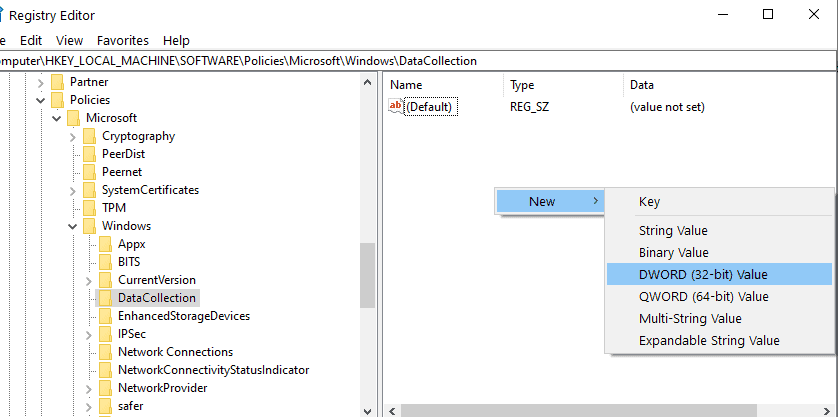 Step 4: Now name the key as "Allow Telemetry" and Assign it a value of 0. 
Step 5: Now save it and restart your computer to disable the CompatTelRunner process.
Hope this information was helpful in knowing what is CompatTelRunner.exe and how to disable it. If you face any further issues related to this, feel free to write to us below in the comments section!