Last Updated on September 11, 2020
Adobe has released Flash players versions for Linux Operating System after a long time. This time there are 6 versions you can choose from.
These new versions of Adobe can be download from the adobe flash player website here .
Install Adobe Flash Player Versions for Linux
After going to that download page, select your operating system. If you choose Linux 64 bit or 32 bit like I did then you will find 6 versions that you can choose from.
FP 32.0 for Ubuntu (apt)
FP 32.0 for Linux 64-bit (YUM)
FP 32.0 for Linux 64-bit (.tar.gz)- PPAPI
FP 32.0 for Linux 64-bit (.tar.gz) – NPAPI
FP 32.0 for Linux 64-bit (.rpm) – PPAPI
FP 32.0 for Linux 64-bit (.rpm) – NPAPI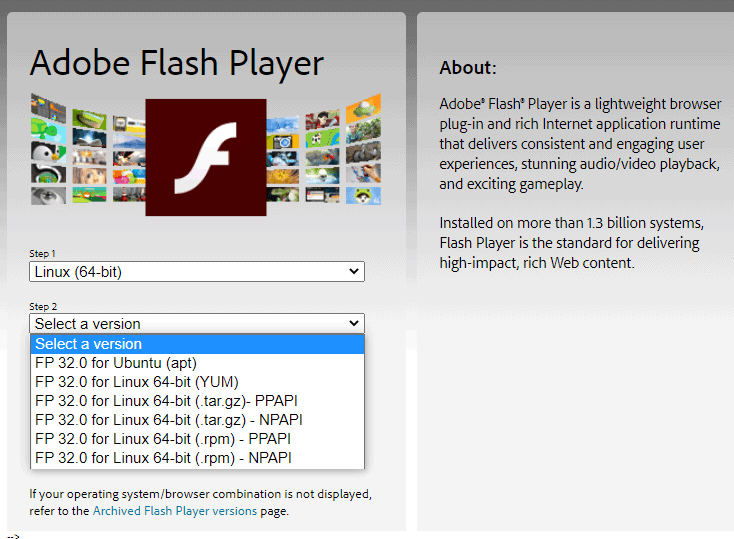 Which version do you download between the NPAPI or PPAPI or ActiveX for windows users?
NPAPI Vs PPAPI Which One To Choose
What is NPAPI?
NPAPI stands for Netscape Plugin API. It was first introduced in 1995 for the Netscape Navigator browser 2.0.
What is PPAPI?
PPAPI stands for Pepper Plugin API. This is a browser interface from Google that is much more secure than NPAPI.
There are two tar.gz and .rpm version available for both API. You can choose any of them. Mostly i would use tar.gz.
If you are using Ubuntu then you can download and install the FP 32.0 for Ubuntu (apt) version.
Adobe Flash Player Version for Windows 7 , Vista and XP
For Windows 7, Windows Vista, and XP OS there are three versions available.
FP 32 for Opera and Chromium – PPAPI
FP 32 for Internet Explorer – ActiveX
FP 32 for Firefox – NPAPI
You have to choose the version based on the Browser you wanted to use it on. So if you are using chrome then download the Chromium PPAPI version.
I hope you were able to install the correct version of Adobe Flash player version on your Operating system.
Do let us know in the comments if you have any other questions.