Are you Unable to run Windows 10 Media Creation tool? This 0x80042405-0xa001a Error Code occurs when using Windows Media Creating tool for creating a bootable Windows installer from an ISO image of Windows 10 Operating System. Let's learn what is this Error Code 0x80042405, why this error occurs and how to fix it.
What is error code 0x80042405?
The error code 0x80042405 fully known as 0x80042405-0xa001a is an error which occur when using the Windows 10 Media Creation tool, due to problems with the drive format or ISO file of Windows 10 OS you are trying to create a Boot Media Drive for.
When does this Error 0x80042405-0xa001a Occur?
When using the Windows Media Creation tool it will go well and show the message Creating Windows 10 Media – Progress 40% and it will get stuck after sometime it will display the error message.
You will get a message There was an error running this tool with the error code 0x80042405-0xa001a.
Even after several windows updates these errors continues to occur now and then. Let's learn how to fix this Media Creation Tool Error with our tutorial below.
How To Fix Media Creation Tool Error 0x80042405-0xa001a
Download the Media Creation Tool directly to USB drive and run it
1. To do this, download the tool to the USB drive which you wanted to use as the bootable Windows installation device. This fixes the Error 0x80042405-0xa001a from occurring.
2. You can download the latest version of the tool here https://www.microsoft.com/en-in/software-download/windows10 and click on the "Download tool now" button as shown in the screenshot below.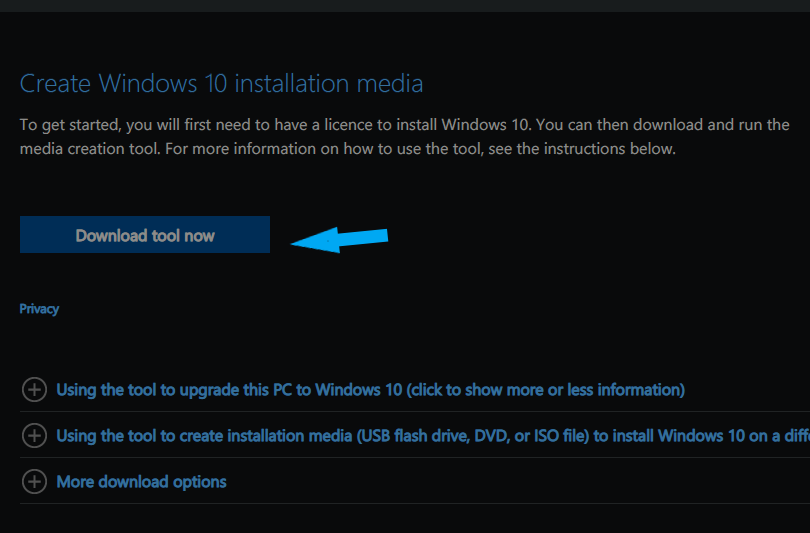 Format the drive before running the Media Creation Tool
If your drive is not formatted properly this Error 0x80042405-0xa001a might also occur. So to format your drive.
2. Open the File explorer window and Right click on the pen drive or hard disk on which you wanted to create the Windows 10 bootable drive and select the format option.
3. Now choose the format type as FAT or NTFS system. Try the FAT format type and if you are getting the same error then try the NTFS system. Now the error will not occur again.
Frequently Asked Questions
How to Fix Windows 10 Media Creation tool error There was a problem running this tool
Download and Copy the Media Creation tool to the drive in which you wanted to install the bootable Windows in and run the media creation tool as administrator. This fixes the Windows 10 Media Creation tool error.
How to fix 0x80042405 Error Code?
This error can be easily fixed by formatting the drive where you wanted to install the Windows 10 installer to the correct format.
I hope you were able to fix the Media Creation Tool Error 0x80042405-0xa001a with the help of our tutorial.
Don't forget to share our tutorial if you found it helpful. Also, leave your valuable comments below.