How to take a screenshot / screen capture / printscreen on Amazon Kindle Fire HD & HDX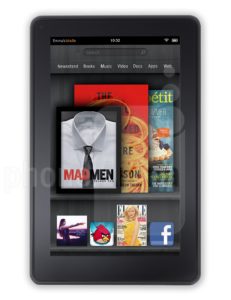 Amazon Kindle Fire has grown into one of the most popular tablet in the market.Amazon's Tablets are the best choice for your money and is the third generation of Amazons Kindle Fire line of tablet computers.This tutorial also works on1st generation and 2nd generation.It has faster processor and more powerful graphics processing unit.The 2012 models use software that introduced the ability to place absolute limits on total usage or usage of individual features, called FreeTime, and tracks your reading speed to let you know when you will finish a chapter or book.
Taking a screenshot is easy on amazon kindle, just follow the below steps one by one.
How to take a screenshot on Amazon Kindle Fire HD & HDX :
1. Browse to where you want to take a capture of the screen
2. Power and volume down button must be pressed at the same time.These two buttons will be on the right side of the tablet.
3. You will hear a camera shutter indicating that the screen has been captured.
4. The captured image will be saved in your gallery > screenshot folder.
Hope you were able to take a screenshot /  screen capture on your Kindle Fire Tablet.If you have any queries, let us know in comments.