How to take screenshot in htc desire 210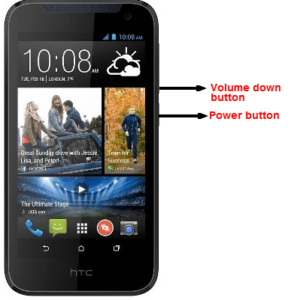 HTC desire 210  newly launched smartphone with 4″ display.It is provided with Android OS,v4.2.2 (jelly bean) and rear camera-5 mega pixel.Now let us see how to take a screenshot in HTC desire 210 and here goes the tutorial.
Steps to take screenshot on htc desire 210
step 1: Go to the screen that you want to capture.
step 2: Press and hold volume down button and power button simultaneously.
step 3: The screenshot has been taken and the captured image will be saved in gallery.
step 4: The captured image can be shared with your friends and in any social network.
Hope you were able to take a screenshot on your htc smartphone. Do let us know if you have any questions. Thanks.