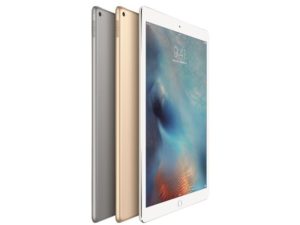 Apple iPad Pro  has a 13-inch retina screen is first released on November 11 2015 by Apple. The iPad Pro features a 12.90-inch display with a resolution of 2732 pixels by 2048 pixels at a PPI of 264 pixels per inch. It has better speaker system than the iPad and keyboard support builtin with a magnetic connector.
As iPad Pro models are marketed to be a computer replacement it's important to have a dedicated screenshot feature on iOS. Apple has also added a screen recording option as well in the latest iOS releases.
Take screenshot on iPad Pro
Taking a screenshot or screen capture on your iPad Pro is easy. Follow the simple steps mentioned below. This method works on all the iPad Pro models from the first iPad Pro to the latest version.
Steps To Take A Screenshot On iPad Pro 9.7, iPad Pro 10.9, 12.9 iPad.
Step 1: Navigate to the screen on your iPad Pro of which you want to take a screenshot.
Step 2: Press and hold the power button and then volume down button at the same time. As iPad Pro doesn't have a dedicated home button we cannot use that you take a screenshot like in older iPad models.
Step 3: After a few seconds the iPad screen will flash white, you will hear the camera shutter sound, and the screenshot will be saved on your screenshots folder on your Photos App on your iPad Pro.
Step 4: If you wanted to edit the screenshot before sharing it you can select the screenshot preview on the notification panel to edit the screenshot easily using the built-in screenshot editor on iOS. No need to download an extra app.

Step 5: You can also tap the edit icon or use the edit menu in apps like Messages or Mail to insert your screenshot into texts, email, and more.
About iPad Pro:
New iPad Pro 10.9:
The iPad Pro 10.9 comes with a 10.5-inch Retina display with a 2,224×1,668-pixel resolution. It supports a wide color gamut, ultralow reflectivity with 600 nits brightness and HDR video. It has 120Hz to make motion look smoother and more responsive. It supports 64GB Wi-Fi and has 4GB of RAM. It has a Full-screen virtual keyboard.  It comes with Silver/Gold/Rose/Space color. It supports 30.4‐watt, 9*-10 hrs battery life.  It has a 4K primary camera and 7MP front camera. It also supports 1080p video quality.
iPad Pro 12.9 or 13 inches:
The 12.9-inch iPad Pro offers a 12.9-inch display with 2732 x 2048 pixels of resolution.  It contains a 12-megapixel iSight sensor and 1.2-megapixel FaceTime HD camera.
iPad Pro 9.7 inch:
The 9.7-inch iPad Pro offers a 9.7-inch display with 2048 x 1536 pixels of resolution. The phone offers wide color and True Tone display features it will balance the color based on the surrounding environment. It contains an 8-megapixel iSight camera and 5-megapixel FaceTime HD camera. the 9.7-inch iPad Pro with a single-core score of 3022
Both the phones offer LED-backlit, fingerprint-resistant oleophobic coating, fully laminated display, and antireflective coating features.
Hope this method of taking screenshot  on your iPad Pro was easy and you were able to take a screenshot using our tutorial.
If you have any doubts regarding this, let us know in comments.