How To Take A Screenshot  on Nexus 5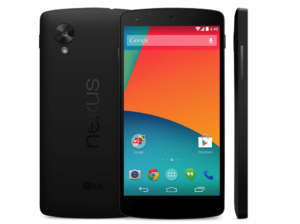 Taking  a screenshot or screen capture on your nexus device is easy. Follow the below steps
Steps To Take A Screenshot On Nexus 5 :
1. On your device, pull up the image that you want to capture.
2. When ready Hold down both the POWER button and the VOLUME DOWN button at the same time until the screenshot is taken
3. It will be saved in your gallery folder automatically.
To view your screenshot, open the Gallery app. If you have trouble finding your screenshot, make sure the Album view is selected, and then find the Screenshots folder.
Watch the video here.

ABOUT PHONE
Nexus 5 is an Android handset that deserves the Nexus name. The Nexus 5 is fast, gorgeous, and stocked with features (including LTE) and it is the device for showing the true power of the Google universe and the Android operating system. It has a 5 inch display screen, the base has a microUSB port for charging and two grills – one housing a speaker, and the other a microphone. The top of the device has a 3.5mm headset jack and a small hole for a microphone that may act as a noise cancellation feature.The volume buttons are on the left side and the power buttons on the upper right corner.It is a low end smartphone with 800 processor, Full HD screen and the very latest version of Android 4.4.4 KitKat.It will soon get an update to Android 5.0 Lollipop, giving it a new lease of life on Google's latest OS.