You might want to take a screen capture of your screen on many occasions. Taking a screenshot on windows 8 based system has become a lot easier. Unlike previous versions of windows, where you have to save the screenshot using paint or any other image editing software, Windows 8 offers an automatic saving of your screenshots into your library.
Windows 8.1 Blue Version might make it a lot easier too.The procedure is the same if you are using Windows 8.1 blue developers version and for the Windows 8 laptop, windows 8 PC  devices
Also, learn basic steps to how to take a screenshot on windows
Windows 8 Automatic screenshot saving option:
Follow these simple steps below on your windows pc or laptop device
1. Navigate to the screen which you would like to screen capture ( Screenshot)
2. Now Press and hold on to Win key button and then press the Print sc/ Sys Rq button
3. This action will slightly dim your screen stating that your screenshot is taken and it will be automatically saved into your library in the screenshots folder ( Refer picture below )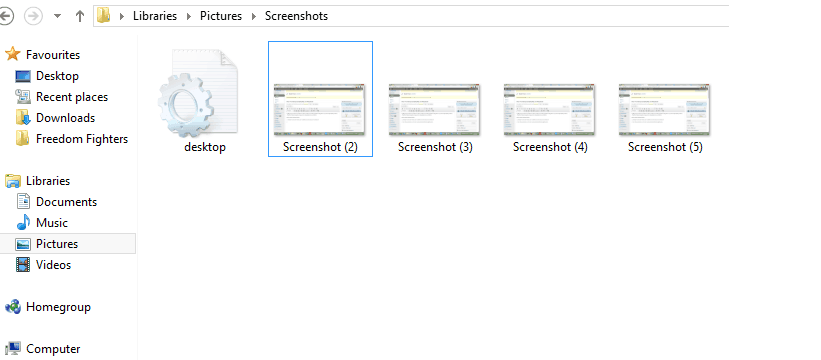 See the video below on taking a screenshot with Windows 8 shortcuts

For editing a taken screenshot  without saving :
1. Press only the Print screen button ( Prt Sc) and then open any picture editor like Ms. Paint
2. Then press Ctrl + V button after entering into MSpaint application. This will paste the screenshot directly into MSpaint without saving it in any place.
3. By using this method you can edit your screenshot before saving it.
I hope you liked this article on taking a screenshot in Windows 8. Let us know your views on this in the comments section below. Thanks, and also don't forget to subscribe 🙂