Last Updated on
Oppo is one of the largest phone manufacturers in china. Oppo has sold millions of budget and high-end phones to the Asian market with great success. Oppo smartphones run on the Android operating system. So learning how to take an Oppo screenshot will be very easy.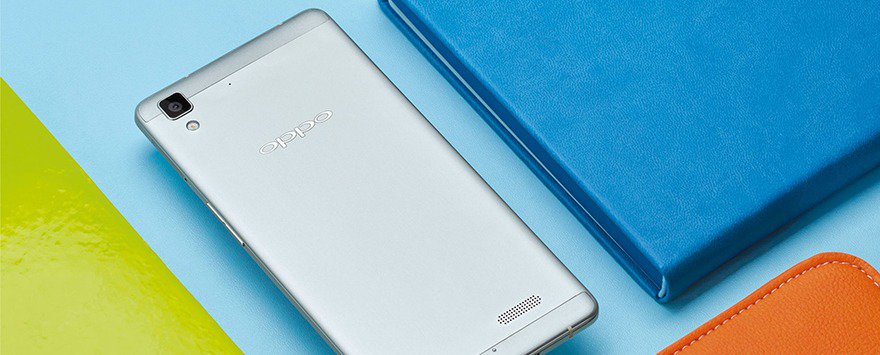 In order to take a screenshot on Oppo successfully, you can follow any of the below 3 methods.
How to take a screenshot on Oppo
Using Hardware buttons for oppo screenshots.
Using Google Assistant Screenshot.
Using Third-Party Screenshot Mobile Application.
Taking a screenshot on Oppo phones using the inbuilt oppo screenshot button options is the easiest option. You don't even need to download a screenshot app separately.
Follow the below steps one by one for taking a screenshot on your phone without any problems.
Take Oppo Screenshot Using Hardware Buttons
Step 1: Go to the screen of which you want to take a screenshot on Oppo phones.
Step 2: Now press and hold the Power and Volume down buttons at the same time and leave it after a few seconds if you see a notification or hold it till you get a screenshot notification or sound
Step 3: You will hear a camera shutter sound that will indicate that a screenshot was just taken.
Step 4: There will also be a Screenshot notification on the notification bar. If you want to use the screenshot later, just swipe away the notification. The screenshot will be stored in your gallery in the oppo screenshot folder.
Step 5: The screenshot image can be shared on any social media like Facebook, Twitter, etc.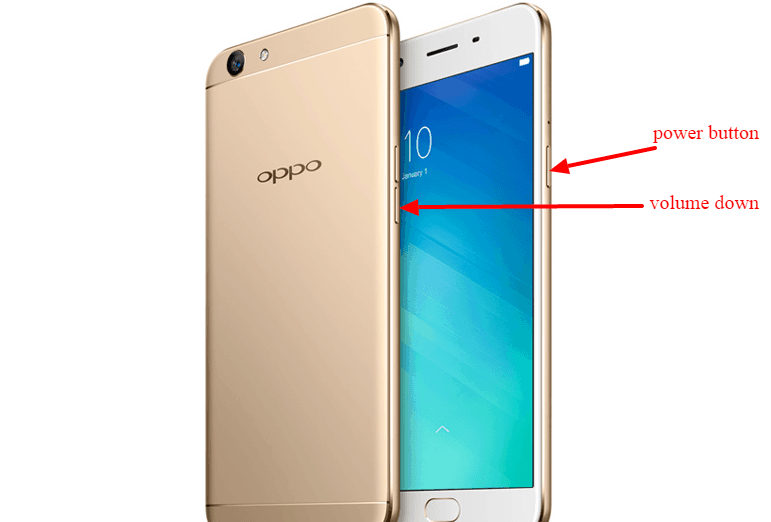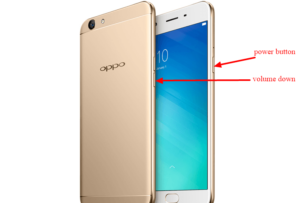 Taking Oppo Screenshot Using Google Assistant
If your Oppo smartphone has Google Assistant then you can use it to take a screenshot easily without pressing any hardware keys.
Step 1: When you are on the screenshot that you want to take a screenshot, then launch the google assistant by holding the home button.
Step 2: Then type in " Take screenshot" to the google assistant. You can also use the voice command option to do the same by just saying the words.
Step 3: Your screenshot will be taken and saved in your oppo smartphone's screenshot folder and a screenshot notification will also appear. You can click on it to open the screenshot too.
Step 4: Now you will be easily able to share it with your friends on social media using the share option to Facebook, Twitter, Pinterest, etc.
Screenshot in Oppo Using Android Application
If the above methods didn't work you can download a screenshot android application from the app store. Launch the app store on your mobile and search for "Screenshot" apps and install one of them. After installing the app, just launch the app and follow the instructions.
Frequently Asked Questions
How do I take a screenshot on my Oppo phone?
Follow our guide to take a screenshot on any model of your Oppo phone. There are many ways to take a screenshot on your Oppo phone. Use any of the methods mentioned in our post.
How do I screenshot on oppo r15?
Taking a screenshot on an Oppo is easy. Just click the screenshot toggle in the notification panel or click and hold the power button and volume down button together to take a screenshot.
Take Normal Screenshot On Oppo F1s
Taking a normal screenshot is as easy as pressing the power and volume down button. Or you will have to download a screenshot android app.
How do I screenshot on an Oppo?
Taking screenshot on an oppo is easy . Just click the screenshot toggle in the notification panel or click and hold the power button and volume down button together to take screenshot.
About Oppo Phones
OPPO Electronics Corporation is a Chinese electronics manufacturer. The company makes smartphones, MP3 players, portable media players, LCD-TVs, and DVD/Blu-ray players. The phone runs on Android OS.
The best Oppo phones are
Oppo A57
Oppo R9s Plus
Oppo R9s
Oppo F1s
Oppo A37
Oppo R11s
Oppo A59
Oppo A53
Oppo Joy and Oppo Joy Plus
Oppo F1 Plus
Oppo R9 Plus
I hope you were able to screenshot on Oppo smartphones. If you have faced any problems when taking your oppo screenshot, kindly comment below we will help you out.