How to take a Screenshot/screen capture/print screen on Samsung Galaxy Grand 2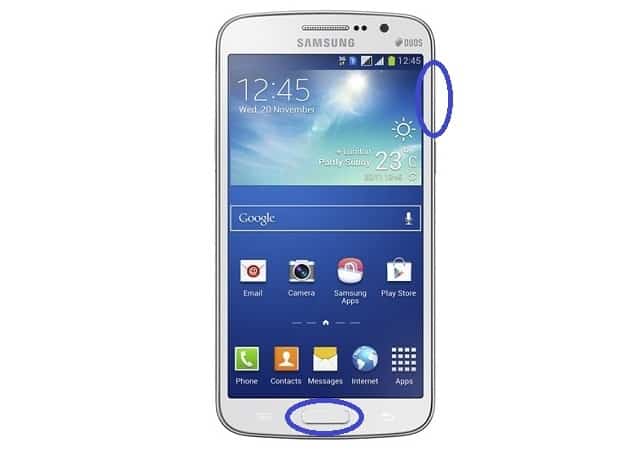 Samsung Galaxy Grand 2  has unleashed its great looks and features in 2014. Yes, GalaxyGrand made a rocking in the Gadget stage as a Cheap and High-Quality smartphone from Galaxy. So the SmartPhone king Samsung developed one of the best sellers in the market. By the way, every smartphone will have the ability to Screenshot and now we are going to teach you how to take a Screenshot on your phone with the following tutorial.
Steps to Take a Screenshot on Samsung Galaxy Grand, Grand 2
Method 1: Using the hardware buttons
Step 1: Go to the screen you wanted to take a screenshot of.
Step 2: Press the Lock Button and Home Button at the Same Time (Refer Above Image) to take a snapshot.
Step 3: Go to Gallery and See the screen capture you have taken.
Method 2: Using Palm swipe Option
Step 1: Swipe your palm against the screen which you want to capture from left to right or vice versa.
Step 2: Your screen will be captured and will be saved in your gallery.
Was this post helpful? Kindly rate it below and comment below to improve it.
That's it your Screenshot is ready to do whatever you like with. Also, share this post with your friends and help them too.
Leave us a comment if you find any problems in taking a screenshot on your smartphone.
Keep Visiting and Feel Free to ask your Doubts 🙂
Navigate to the screen which you want to capture and palm swipe on your screen right to left or left to right.
How do you screenshot on a Galaxy Grand prime plus?
Press the power and volume down button and hold it for 1-2 seconds.