How to take screenshot on Samsung  Galaxy Note Edge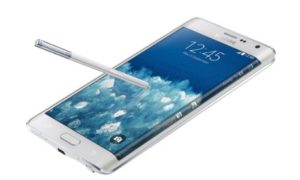 How to take screenshot on Samsung Galaxy Note Edge
Step 1: Migrate to the screen which you want to capture.
Step 2: Press and hold the S Pen on the display screen while holding down the S Pen button.
Step 3: The Screenshots will be copied to the clipboard and saved to the screenshot folder in the gallery.
Step 4: Open the desired screenshot and share it via social media like facebook, twitter, etc.
About phone:
Samsung Galaxy Note Edge smartphone comes with a 5.6inch display screen super AMOLED quad display. The Operating system is Android4.4 with 2.7GegaHertz quad core processor. The primary camera has 16megapixel and the secondary camera is 3,7 megapixel. It has 3GB of RAM and 32GB of internal storage that can be expanded up to 64GB through SD cards. It supports all the connectivity options like Wi-Fi, GPS, Bluetooth, NFC, Infrared, 3G and 4G.
Hope you understood the tutorial and it was easy for you to take screenshot successfully. If you have any inquiries, comment us below.