How to take Screenshot in Samsung Galaxy Note Pro 12.2 LTE,12.2 3G,12.2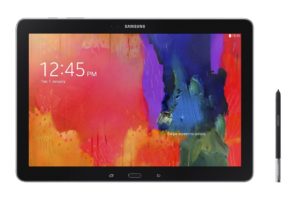 Samsung Galaxy Note Pro is 30.98cm with 4 million pixel display screen. It has 8 megapixel primary camera and 2 megapixel secondary camera. Galaxy Note Pro is operating with  Android 4.4 operating system.
How to Take Screenshot in Samsung Galaxy Note Pro
Using S Pen:
Step-1: Goto the screen which you want to capture.
Step-2: Hold the S Pen on the screen till you hear the clicking sound.
Step-3: The screenshot will automatically open and you can share it now.
Using Keys:
Step-1:Place the screen which you want to capture in the display screen
Step-2: Press the Home key and the Power/Lock key simultaneously.
Step-3: Tap the screenshots in album gallery and share it.
Using Motion Gesture:
Step-1: Your mobile device supports the Palm swipe to capture screenshots.
Step-2: Tap the Application manager-> Settings->Motion and Gestures-> Palm Motion.
Step-3: Turn on the Palm Motion and click OK for the attention message if necessary.
Step-4: Turn on Capture Screen On.Now you can capture the screen by touching the screen with the side of your hand and swiping from left to right or vice versa.
Step-5: Tap the Albums in  photos gallery to view the screenshots. Open the captures and share it.
Hope you understood the tutorial. If you have  any inquiries, comment us below.