Taking a screenshot on iPhone 6s can be difficult sometimes, especially when you have so many iPhones and iOS versions nowadays. Taking a screenshot or screen capture can be helpful in many situations like when you want to show a colleague or friend a new app or some information on your iPhone 6s.
Phone Name : iPhone 6s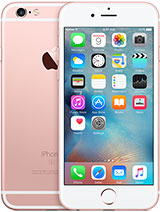 Let's Learn how to take a screenshot on iPhone 6s using the 2 different methods. Follow the below steps one by one for taking a screenshot on your iPhone 6s.
How To Take Screenshot On iPhone 6s
Go to the Screen / App Screen that you wanted to take a screenshot of on your iPhone 6s.
Press the Home button and hold it down and then quickly press the Power/Sleep button at the same time.
You will see a quick white flash notifying you that the screenshot has been taken.
It will be automatically saved in your photo gallery under the screenshots folder on your iPhone Photos App.
Now you can share your screenshot on social media apps such as Whatsapp, Facebook, Twitter, etc.
iPhone 6s Screenshot Using Assistive Touch
For iPhones that support Assistive Touch follow the below tutorial to take a screenshot when your home button or power button is not working.
On your iPhone 6s, go to Settings >> Accessibility( On older iPhones Go to Settings app >> General >> Accessibility settings) and look for Touch > Assistive touch ( Just Assistive touch on older iPhones) and enable it by tapping or sliding on older iOS versions like iOS6 and below.
Then choose Customize Top Level Menu and then Choose Custom Icon.
Now choose the Screenshot icon from the list. Now the screenshot function is added to assistive touch.
Go to the screen of the app or website you want to take a screenshot of on your iPhone 6s.
When you are ready Tap on the Assistive touch >> tap on device >> select more (If you don't see the screenshot icon on the top).
Now tap on the Screenshot Assistive touch button to capture the selected screen.
How do you take a screenshot on iPhone 6s?
On your iPhone 6s press the power/sleep button and the home button at the same time. Leave it when you hear a screenshot sound or a white flash on your screen (On older models) and your screenshot is taken.
If your lock button on your iPhone 6s is not working taking a screenshot will be a little difficult. Instead, you can use the assistive touch software feature. Enable Assistive touch by Settings > General > Accessibility > Assistive touch. Then choose the screenshot button by clicking on the white button and choose Device > More > Screenshot button. Click on it to take a screenshot.
The lock button is located to the top right side of your iPhone 6s device as they share the same design. The lock button also acts as a power button.
On your iPhone 6s, you have to first enable the assistive touch feature by going to Accessibility and enable assistive touch. Then click on the floating button and then choose Device and More option and choose the screenshot option to take a screenshot.
Where will be the screenshot saved on iPhone 6s?
After taking your screenshot, it will be saved automatically inside the gallery app inside the folder named screenshots on all iOS devices.
About iPhone 6s:
Your iPhone 6s has a 4.7″ screen with a Apple A9 (14 nm) processor ,PowerVR GT7600 (six-core graphics) and 2GB RAM. Your phone supports iOS 9, upgradable to iOS 13.5 Operating System.
I hope our detailed screenshot tutorial for iPhone 6s was helpful. Do share our tutorial on social media.
If you had any problems to screenshot your iPhone 6s,  do comment below we will help you out.