When you are planning on selling your Samsung Galaxy A50 device or when you wanted to reset your device you must remove the Google Account linked in your Samsung tablet or smartphone as well. Learn how to clear Google user account or how to delete Google Account on your Galaxy A50 device in this post.
Or do you have Multiple Google Account signed on your Galaxy A50 and you would like to remove one or all the google accounts?
By removing the Google account will also remove the Factory Reset Protection ( FRP ) on  Galaxy A50 which removes the Google login authentication required during first boot after software or hardware reset. Let's learn how you can do these below step by step.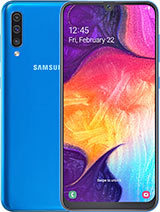 How To Remove Google Account On Samsung Galaxy A50
To remove or delete google account data from your Samsung Galaxy A50, Open the App drawer by swiping up from the home screen or tap on Apps on older devices.
Scroll down and open the Settings app.
Then Select Cloud & Accounts or Accounts & backup or Google option on older Samsung devices.
After choosing the Accounts option, the Google Accounts linked on your Galaxy A50 will be listed. Then Choose the Google Account you want to remove.
Then finally click on Remove account.
Now your Google account will be deleted on your Samsung Galaxy A50 along with all other information like saved passwords, Google notes data, google drive data, phone number, and so on from your phone. Don't worry they can still be accessed online if you have enabled cloud sync or a backup.
After you have completed the deletion of your Google account from your Samsung device you might also want to do a complete Hard Reset / Factory Reset. You can find the tutorial for how to Hard Reset Samsung Galaxy A50 here.
Galaxy A50 Frequently Asked Questions:
How do I delete an existing Google account from my Samsung Galaxy A50?
To remove your existing google account from your Galaxy A50, Unlock your device and then go to settings app then choose Accounts option and choose the Google account you want to remove.
Hope you were successfully able to Unlink Google account from Galaxy A50 and erase your google data by following our tutorial. Kindly share with your friends on social media if you found this tutorial helpful.
Also, let us know in the comments section below if you face any other issues with your Galaxy A50.
Also Read our other tutorials for Galaxy A50 in our website.