Do you want to remove a language on your Samsung Galaxy J7? Removing unused languages can be helpful to free up some space. It only takes a few simple steps to delete languages like Japanese, UK, Spanish and other languages.
Phone: Samsung Galaxy J7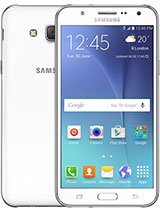 If you have many languages on your Samsung Galaxy J7 smartphone it can take up a lot of space. Let's learn how to remove a language from a Samsung Galaxy J7 device using our step-by-step tutorial below.
How To Delete a Language On Samsung Galaxy J7
To delete a language on Galaxy J7 system-wide, do the following steps.
Step 1:
Open the Settings app on your Galaxy J7 smartphone.
Step 2:
Now, search for the System option, which has an "I" symbol icon and select it.
Step 3:
Now select the "Languages & input" setting with the globe icon.
Step 4:
Now at the top of the screen you will find the Languages option. Now select that on your Samsung Galaxy J7 device. You will see all the languages installed on your Samsung device in this screen.
Step 5:
Now click on the Add a language + plus button.
Step 6:
Now on the top right of the screen select the three vertical dots option and select the Remove option in the drop-down menu.
Step 7:
After that check boxes will be displayed before all the languages listed. Now select the check boxes for the languages that you wanted to uninstall from your Samsung device. ( Make sure to leave the language you wanted unchecked)
Step 8:
Now click on the Trash icon at the top right corner to delete the selected languages.
Step 9:
Finally, Click on the Ok button on the "Remove Selected Languages" Confirmation message box to delete the selected languages on Galaxy J7.
Now the extra unwanted languages will be removed and this will free up some space on your Samsung Galaxy J7 Device storage.
I hope you were able to remove the unused languages on the keyboard and also system-wide on Samsung Galaxy J7 smartphone using our tutorial.
Also, let us know your valuable comments below if you have any issues.