Sharing your Galaxy S6 mobile internet via mobile WiFi hotspot can be very helpful in situations where you don't have a dedicated internet connection for your laptops or tablets. You can use your phone as your internet modem with this method.
Let's learn how to enable portable hotspot and share internet connection on Samsung Galaxy S6 device with our step-by-step tutorial.
Phone name: Galaxy S6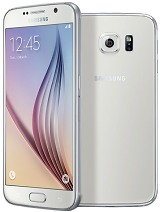 When you are ready, open the app drawer on your Galaxy S6 and open the Settings app.
Now Click on the Connections option and search for the Mobile hotspot & tethering option and click on it.
Now click on the Mobile Hotspot toggle to turn it on.
Now your internet connection will be shared via a Wi-Fi hotspot.
To connect to your Wi-Fi hotspot to access the internet, make sure you have enabled the Mobile Data on your device.
And then go to settings and Network and click on Hotspot options.
Now choose the network name and give it a password.
Use this password to connect to your Wi-Fi hotspot on your other devices.
I hope you were able to share your internet connection on your Samsung Galaxy S6 smartphone using our tutorial.
Also, let us know your valuable comments below if you are facing any issue.