A Ubisoft Service is Currently Unavailable is an error that happens in the Ubisoft Connect application when you are trying to login with your user account or when you are trying to launch an Ubisoft game. These errors occur when you are trying to launch an Ubisoft game on Xbox consoles, Nintendo Switch or PlayStation devices like PS4 or PS5.
Let's learn what is this error code and how to fix it in this tutorial.
This "A Ubisoft Service is Currently Unavailable Please Try Again Later error" occurs when there is a problem with internet connectivity or the Ubisoft service server is having a problem and is down. Let's learn how to troubleshoot this issue and fix it with our Step-by-step tutorial.
What is the Ubisoft services not available Nintendo Switch Error?
This error occurs when you are trying to play an Ubisoft game using Nintendo Switch. This error is because of issues related with your internet connection on your Switch device or Ubisoft service connectivity issue.
This is how the Ubisoft Connect Error will look like.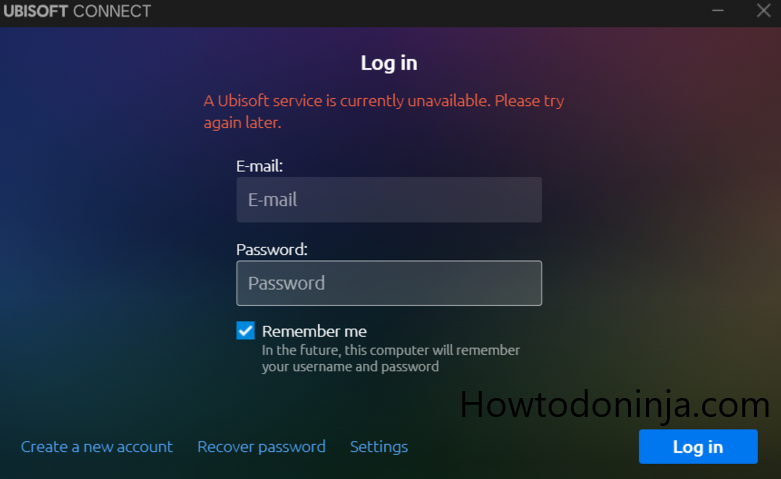 Follow the below methods one by one to fix the Ubisoft Service Unavailable issue.
1. Check Ubisoft Online Service Status
You can check for any downtime of Ubisoft connect on the Ubisoft Support page or social media pages for any downtime notice of their online servers. Or you can checkout their Forum.
If there was no problems, check whether you have any other issues.
2. Fix System Files that might be Damaged
Open the Command Prompt as administrator.
Type the following command and press the Enter Key. Command = "sfc /scannow"
Now your disk will be fully scanned for any corrupt files and it will be fixed.
3. Check your internet Connection
Check whether your internet works properly by using an internet speed test from google or speedtest.net. Check whether the ping is less than 50ms or 100ms. If the ping is higher than 100ms, then there might be a loss in your internet network.
4. Check usage of IPv6 address
Sometimes if you are using IPv6 version, the Ubisoft service won't be available. So check whether your iPv6 is configured correctly or switch to IPV4 version for your device. You can do this with the settings of your router and also on your gaming device.
If you are playing an Ubisoft game on your Switch, you might sometimes get this error. To fix this make sure your internet connection with your Switch works properly. Then check Ubisoft Online services status.
You can get this Error on your Playstation 4 console when you are unable to connect to the Ubisoft online service or the application is having an error. Usually fixing the internet connection or updating the game will fix this issue.
If you are using Ubisoft Connect and facing this issue, then try updating the Connect software and try again. Also make sure you have a good internet connection.
This bug is same as the Ubisoft service is currently unavailable error. You can fix this Uplay connection lost service unavailable by
These above mentioned steps will mostly fix the Ubisoft Service is Currently Unavailable issue on your PS4, Switch, PC or Xbox. If you are still facing the issue comment below, we will help you out.
Hope our tutorial was helpful. Also, don't forget to share it with your friends.