NVIDIA Control Panel might sometimes become glitchy and won't open. Let's learn what causes this issue and how to fix it.
What causes the NVIDIA Control Panel not opening Error?
Sometimes if you are using an older version of the Nvidia Control panel software, then it might not open properly. Or a malware or virus might have affected your system causing the issue.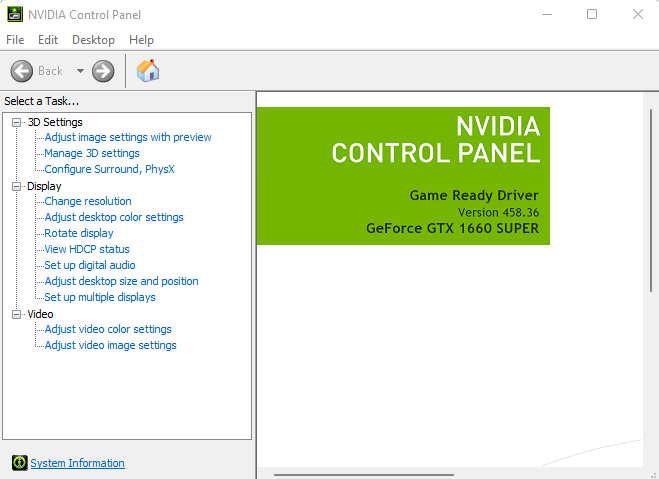 How To Fix NVIDIA Control Panel not opening
Follow the below methods one by one till your nVidia Control Panel not opening issue is sorted.
Method 1: Restart the NVIDIA Control Panel process
To restart the process of NVIDIA Control Panel from the Task Manager, you must press Ctrl+Shift+Esc combination. 
Now locate the process named NVIDIA Control Panel Application. 
You must now expand on this application and right click on the NVIDIA Control Panel subprocess.
Press End Task. 
Exit this and go to Start Menu
Try to open the NVIDIA Control Panel from here and see if the issue has been resolved.
Method 2: Upgrade your NVIDIA Display Drivers Software
You must always keep your NVIDIA Display Drivers updated. Else it can also trigger this error of NVIDIA Control Panel not opening on Windows 10. 
You can download the latest drivers from the official NVIDIA website. 
Remember to select the exact model of the graphic card that you use, from the drop down list. 
Press Search.
You'll be shown the latest release of the drivers software for your particular graphic card. 
You must download this software by accepting the terms of use. 
Once you download, run the executable file to finish the installation. 
Reboot to see if you resolved your problem. 
Method 3: Restart the NVIDIA Display Driver Service
Press the Windows + R combination to open the Run dialogue box. 
Execute the command services.msc 
You will see a list of services from which you must find NVIDIA Display Container LS.
Double click on this service, it will open Properties box for this one. 
Now check if the service is started. If it is not, then you must start it now. If it is, then you can stop it once and then re-start it. Ensure that the startup is set to Automatic. 
Repeat this process for NVIDIA LocalSystem Container service, you'll find in the same list. 
Restart your PC to see if this resolved the issue of NVIDIA Control Panel not opening on Windows 10.
Method 4: End Nvidia Display Container Process
The application nvdisplay.container.exe can also be at the root of the problem. 
Open Task Manager and sort based on the CPU, and you might find that this application is taking quite a toll on your computer!
You must right click on the NVIDIA application and end the process manually if it is stuck. 
Now restart the system to see if this resolved. 
Method 5: Update NVIDIA Display Driver or Graphics Driver
Sometimes when you update your windows, it can have conflict with the already existent graphic card software. So, you must update the graphic card driver too. 
You can choose to go via the Device Manager option or the OEM option.
In the first option, press Win+X and M key to open Device Manager.
Expand the Display Adaptors list. 
You will be prompted to search the driver automatically, and you'll be then pointed to search for an updated driver in Windows update.
Click on it, then hit Optional Update under the Windows Update button. Find the driver update and then make the installation. If there is no update, it will remain disabled. 
In the second option, go to the OEM website and download the latest driver for your specific graphic card version and model. (You can check it from Device Manager, Display Adaptors, Properties, Drivers).
Make the installation once the download finishes.
Hope we helped you to resolve the NVIDIA Control Panel not opening issue on your Windows 10 computer. Do let us know your opinion in the comments section below.
Also, don't forget to share our article if you found it helpful.