Chromebooks have become famous these days due to its easy to use browsing experience. Many people only use online web apps and chrome for their work so it fits them perfectly and also cheaper. Having a VLC player on Chromebook can help in watching some videos easily without going through the hassle of downloading many video players as VLC supports all the major video file formats such as 3GP, AVI, FLV, MKV, MIDI, QuickTime, MP4, MPEG, etc.
Sometimes installing the VLC player on your Chromebook device can become a bit difficult. Don't worry you are in the right place. Follow our below steps one by one to install VLC on Chromebook easily.
Method 1: Install VLC player on Chromebook as Chrome Extension
1. Go the VLC for chrome extension page here on your chrome browser in your ChromeOS device.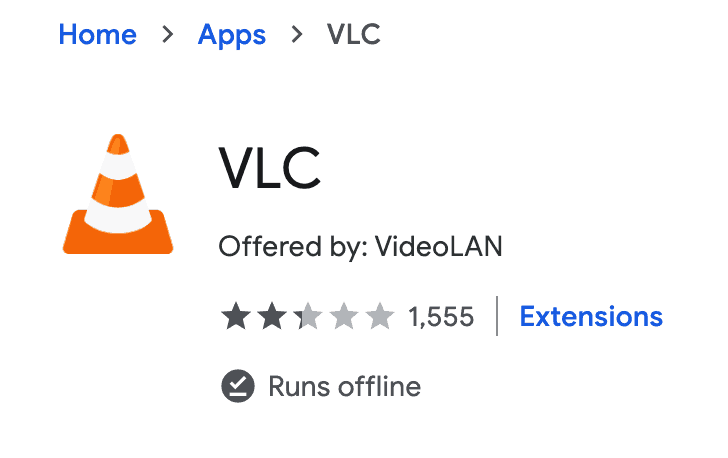 2. Click on the Add to Chrome button to install the extension in your browser. And confirm by clicking on the ADD APP option in the notification popup. Your browser will now check and install the app.
3. Now to launch the VLC application you can either click the VLC extension on the top right corner of your chrome browser or launch it from the Chrome apps menu page.
4. Now the VLC app will open the file browser window once you launch the chrome application.
5. Now browse your computer and select the video file that you wanted to play on the VLC player in your Chromebook.
Method 2: Install VLC Android App in Chromebook
As all the latest Chromebooks now support android native applications, you can also download and use the VLC for Android application in your Chromebook. The android version of the app will have a lot more features than the chrome extension.


Steps to install VLC android App in ChromeOS
1. Open the Google Play store to download the VLC app.
2. Search for the VLC app or go the play store VLC App web link here.
3. Now download and install the app.
4. VLC android app will be installed on your Chromebook and you can launch it from the Apps menu on your ChromeOS device.
Can I install VLC on a Chromebook?
Yes you can install VLC on chromebook. You can install the android version of VLC in chromebook from the google play store.
Does Chromebook have Media Player?
Yes every Chromebook device has an inbuilt media player for playing video files. But it only supports most of the formats not every single format.So it is better if you install a free application like VLC on your Chromebook for better features.
Does a Chromebook play dvds?
If you connect an external DVD player to your Chromebook via USB the inbuilt video player can play simple video formats from the DVD. But to play a DVD file formats which needs encoding and codec support you have to install VLC media player application from Google play store.
Hope our tutorial was helpful. Do let us know in the comments if you have successfully installed the VLC player application in your Chromebook device.