What is Amazon gift card?
An Amazon gift card is a prepaid card that allows the recipient to purchase items from the online retailer Amazon.com. The card is typically issued in the form of a physical card or a digital code, which can be sent to the recipient via email or text message. Amazon gift cards can be used to purchase a wide variety of items, including books, electronics, clothing, and household goods.
They can also be used to pay for services such as streaming music or video, or to make purchases from third-party sellers on the Amazon marketplace. Gift cards can be purchased in various denominations, ranging from $10 to $2,000, and can be redeemed online or in Amazon physical retail stores.
If you've received an Amazon gift card or have an unused balance on an old card, you might be wondering how to add that balance to your Amazon account.
How to redeem a Gift card voucher on Amazon.com website
Here's a step-by-step guide on how to do redeem gift card on amazon.com.
Go to the Amazon website and sign in to your account.
In the top right corner of the page, click on the "Accounts & Lists" dropdown menu and select "Your Account" from the list.
Under the "Payment options" section, click on the "Gift cards" link.
On the next page, click the "Reload Your Balance" button or go to this redeem gift card link directly.
Enter the claim code from your gift card (this is the series of letters and numbers located on the back of the card). You can enter multiple claim codes by separating them with a comma.
Click the "Apply to Your Balance" button.
That's all there is to it! Your Amazon gift card balance should now be added to your account and available for use on future purchases.
If you prefer, you can also add gift card balances by redeeming them during the checkout process when making a purchase on Amazon. Simply enter the claim code in the "Gift Cards & Promotional Codes" field on the "Payment Method" page during checkout.
How to add Gift card voucher on Amazon India website
To add a amazon pay gift card voucher on the Amazon India website, follow these steps:
1. Go to the Amazon India website and sign in to your account.
2. Once you are signed in, click on the My Account drop-down menu located in the top right corner of the page.
3. From the drop-down menu, select the "Your Account" option.
4. On the Your Account page, scroll down until you see the "Gift Cards" section.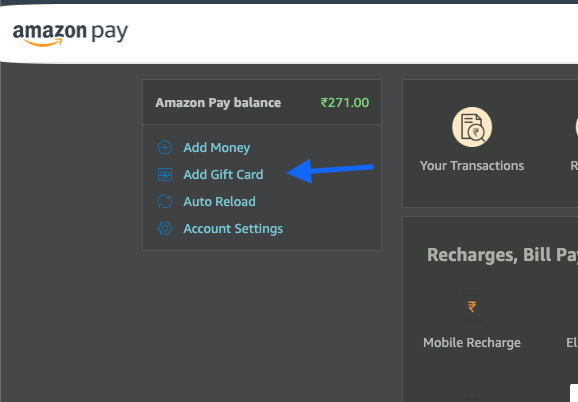 5. Click on the "Redeem a Gift Card" button.
6. On the Redeem a Gift Card page, enter the claim code for your gift card voucher in the "Enter Your Claim Code" field.
7. Click the "Apply to Your Balance" button.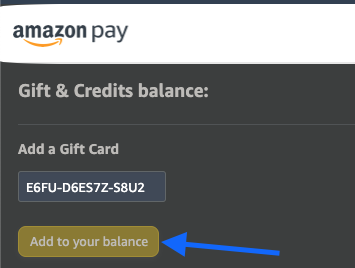 8. If the claim code is valid, the balance of the gift card voucher will be added to your Amazon account balance and will be available for use on your next purchase.
How to add multiple amazon gift card vouchers to your account
If you have multiple gift card vouchers, you can repeat the process to add them to your account balance one by one.
If you have any problems adding your gift card balance or have any other questions about using gift cards on Amazon, you can contact customer service for assistance. Go to the "Help" page on the Amazon website and select "Contact Us" to get in touch with a representative.