FixWin is a Windows application to fix issues.
Learn how to download FixWin and use it.
Deep dive into the features of FixWin10
TIP: If you are facing System related issues on Windows like registry errors or System files being deleted by virus or System crashes like us, we recommend downloading Restoro software which scans your Windows PC for any issues and fixes them within a few minutes.
What is FixWin?
FixWin is a Windows application that is used for fixing issues of Windows with a few simple clicks, rather than doing a lot of diagnoses yourself.
Fixes in FixWin for Windows 10 fall into 6 categories. Let us look into these features one by one.
How to download FixWin10 for Windows 10
To download the FixWin application go to this URL and click on the Download button. Here you can download the freeware directly from majorgeeks.com. The latest version is 10.2.2.0.

To open it, extract the zip file and open the extracted FinWin_10 folder and run the FixWin10.2.2.exe file.

FixWin10 Features List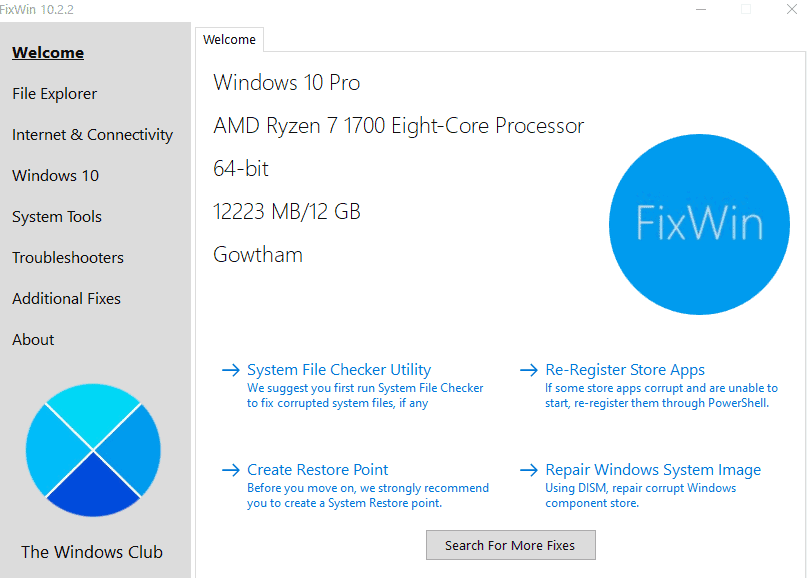 1. Fix File Explorer issues
This will fix all your problems related to Windows 10 File Explorer. Just click on File Explorer in the left side tab and see what you'd like to fix. 
2. Fix Internet & Connectivity issues
So, you upgraded to Windows 10 but are now facing some connectivity issues. Fix those easily with the help of FixWin Internet & Connectivity tab. 
3. Fix Windows 10 issues
Under this category you can,
Reset the Settings application.
Fix the problems with opening or closing the start menu.
Fix wi-fi if it stopped working after upgrading to Windows 10.
Fix any windows updates downloading gets stuck.
Fix any windows store apps that are not opening.
Fix if office documents fail to open after the upgrade to Windows 10.
Fixes the WerMgr.exe or WerFault.exe Application Error.
4. System Tools
Advanced System Information can be used to fix built-in tools if they do not function properly. You can see things about your system, like the number of threads in the processor, number of logical processors, maximum display resolution, maximum refresh rate, etc.
5. Troubleshooters
Get direct links to:
Built-in 18 Windows Troubleshooter
4 latest and most recent Troubleshooter releases from Microsoft.
6. Additional Fixes
Many more fixes for Windows 10, which you could not find in the above categories. 
How to Use FixWin 10 to fix problems
First of all, run the System File Checker. You can do this on the welcome screen, via the button, 'run sfc /scannow'. It will take 5 to 10 minutes and a system reboot will most likely be required, so you must wait for that time.
If you already know that you were facing problems due to Windows store or Store apps, go to Re-register the Store apps. Only a 1-click button will be required to do so very conveniently from the welcome page.
If you already know that Windows 10 OS is causing issues, run the DSIM to restore your windows system image to normal. A single click button for this is available on the home page.
A System Restore point is recommended next. Go to create a System Restore Point and it will guide you through the steps. This will act as a safe restoration point in case of any problems any time later.
Always remember to apply only one fix, restart, and then apply the next fix if still required. If things go the opposite way when you restart, that is you do not wish to have those changes, immediately rollback.
Use the "?" button to see what each fix would do, before you apply the fix. Also double-clicking on the fix after this "?" is a manual way to apply the fix.
If you cannot find a fix that you need, go to Search For More Fixes on the homepage and search for it. You might have to navigate to it in that case rather than a single click.
Please feel free to discuss your queries with us, although the above guide on FixWin for Windows 10 is designed to be absolutely specific.