Pop-ups are usually meant to aid us, but sometimes they can be pretty disturbing. One such pop up asking you to sign in to your Microsoft account to turn on Family features, can be turned off easily. You can come across this message even if you are not part of the family. 
What is Microsoft Family features pop up in Windows 10
You will get a pop-up in Windows 10 like mentioned below.
Sign in so you don't miss out:
You need to sign back into your Microsoft account so you can send your parent requests when you want more screen time or need permission for certain apps and sites.
This Microsoft family features pop up error will sometimes ask for permission will make it difficult to work.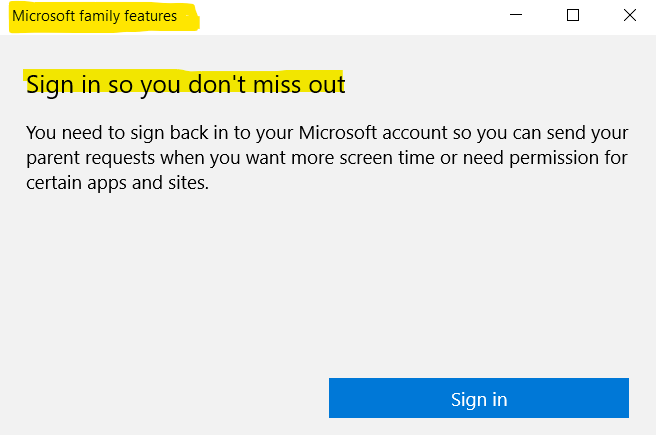 Above is the exact message that you shall encounter if you are facing this problem of Microsoft asking you again and again to turn on Family Features. This is mostly a pop-up error faced because of an issue with Microsoft family account or setup of windows 10. Let's learn how to get rid of Microsoft family features notification forever.
How To Fix Microsoft Family features pop up
Use the methods mentioned below to resolve this problem, which is not serious, but can be irritating enough! These solutions are simple and have no particular order. Try them one by one and check whether the issue is resolved.
Solution 1: Unlink the Child Account from the Microsoft Family you are a part of
You'll need the help of some adult in your Microsoft Family to achieve this. So it might not be something you love, but an easy method that mostly works. They can delink/unlink you from the family by removing your account from there. Follow these steps (ask some adult to do these):
Navigate to family.microsoft.com.
Sign in with your Microsoft account.
You'll have to scroll to select that particular child account you wish to unlink.
Select "More options".
Select "Remove from the family group".
Confirm
Restart your PC to check if it worked.
Solution 2: Try Changing Your BirthDate
Perhaps you've just turned an adult but Microsoft has not yet worked that automatically. There can be a hundred reasons behind this automatic change not being implemented, but what you can always do is change it yourself. 
Navigate to account.microsoft.com.
Sign in with your Microsoft account.
You'll find a "Your Info" link on the top, click there.
Edit Date of Birth.
It will ask you to verify. Once you are done the change shall be live.
Restart your PC to check if it worked.
This must solve your problem of repeated pop ups for Microsoft Family features in Windows 10. If not, follow the next solution.
Solution 3: Reset after Leaving the Family Group
This is the last resort when everything else fails. You must make a reset to your account, after leaving the family group. Once you achieve this on the same or new Microsoft without losing any information at all. However, if you want to preserve information or associated accounts like OneDrive storage and Microsoft Office, ensure that you use the same account after a reset. 
Navigate to family.microsoft.com.
Sign in with your Microsoft account.
Remove all associated child accounts. 
Now, remove all Adult accounts too.
Now select "Leave family group".
It will now be reset. 
Restart your PC to check if it worked.
Now you can re-setup the account, add the same members or more or less as you like.
I hope you were able to fix the Microsoft Family features pop-up with the help of our tutorial. Don't forget to leave your comments below and share this tutorial on social media.